Wondering whether you need to claim for the annual investment allowance on your tax return? In this guide, I'll explain the annual investment allowance (AIA), the benefit it brings, what type of expenses qualify for it and how you claim it on your tax return, whether you're registered as self-employed or have a Limited Company.
Updated 25 September 2021
Friendly Disclaimer: Whilst I am an accountant, I'm not your accountant. The information in this article is legally correct but it is for guidance and information purposes only. Everyone's situation is different and unique so you'll need to use your own best judgement when applying the advice that I give to your situation. If you are unsure or have a question be sure to contact a qualified professional because mistakes can result in penalties.
1. What is the Annual Investment Allowance Work?
The annual investment allowance (AIA) is a tax break created by HMRC to encourage spending by businesses. It permits businesses to deduct the full value of certain 'qualifying assets' against their profits before tax in the year they make the purchase, up to a certain limit.
1.1 How Much Can You Claim Under AIA?
You can now deduct 100% of the cost qualifying assets against profits of up to £1m, for both the self-employed and Limited Companies.
| | AIA Limit |
| --- | --- |
| 1 January 2019 - 31 December 2021 | £1,000,000 |
| 1 January 2016 - 31 December 2018 | £200,000 |
| 6 April 2014 - 31 December 2015 | £500,000 |
1.2 What are Qualifying Assets?
Plant and machinery are typically fixed assets you use in your business such as:
Computers;
Tools;
Furniture;
Equipment.
2. How to Claim the AIA
You'll claim the AIA when you fill in your tax return. If you are self-employed that will be your tax return in the self-employment section in the tax allowances sections (box 49). If you are using the cash basis then you most likely won't need to claim for the AIA because you'll be able to claim for most of your expenses in the tax year you buy them.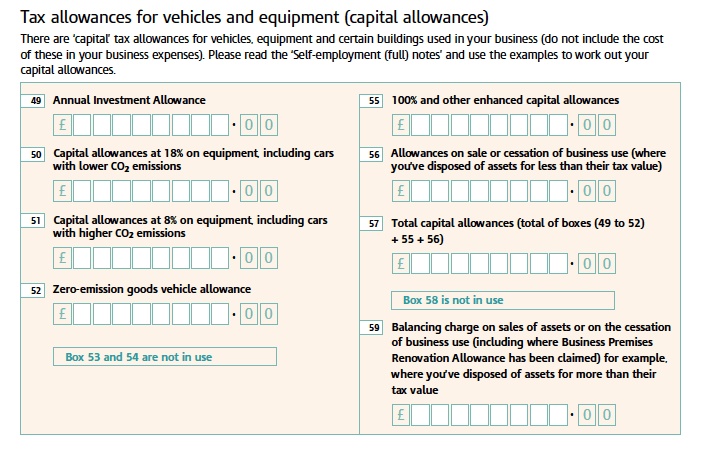 If you have a Limited Company, you'll need to claim it on your corporation tax return.
3. Annual Investment Allowance Restrictions
You cannot claim the AIA on cars, you'll need to claim capital allowances instead, meaning you'll receive tax relief on your car purchase over a set number of years depending on the emissions of the vehicle you're claiming for.
If you are self-employed you also cannot claim this, as well as any other business expenses, if you want to claim for the HMRC trading income allowance.
If you choose to claim it you can use it to create a tax loss which you can carry forward against any future profits you make.  So if you are just starting out and have spent money on equipment then you could consider filling in a tax return so you can get tax relief in later years (although you can claim for these costs in later years as pre-trading expenses).
4. Pro-Rating the Allowance
If you have been in business for an accounting period of less than one year, then you'll need to pro-rate the £1m annual investment allowance.
For example, if you have only been in business for 6 months of the tax return you are completing, then you are only entitled to £500,000 (£1,000,000 x 6/12).
You'll also need to pro-rate AIA if you buy fixed assets that you use personally as well as in your business because you can only claim it on the business portion.
For example, say you buy a laptop for £1,500 and use it for 50% of the time in your business. You'll be able to claim AIA on 50% of the laptop costs which is £750.
If you have two businesses that are run by you, have similar activities or operate from the same premises, then you'll only receive one amount of AIA, so you'll need to pro-rate it between your businesses.
5. Capital Allowances v. Annual Investment Allowance
The annual investment allowance is a type of capital allowance, but it only applies to equipment not cars. You could still use capital allowances on the equipment you buy but this would restrict the amount you can claim against your taxes to 18% of the cost each year. The AIA is more tax advantageous because it lets you claim 100% of what you've bought in the year you buy it.
Alternatively it may be more tax advantageous to claim for the new capital allowances super deduction if you have a Limited Company, available from 1 April 2021 to 31 March 2023. The super deduction now lets businesses can claim 130% capital allowances on qualifying plant & machinery.
Related: