The demand for eyelash extensions is growing everyday and is rapidly becoming one of the most popular 'can't live without' beauty treatments around the world.  So if you are considering branching out on your own and becoming a self employed eyelash technician, then we created this guide just for you so you can take your next steps armed with as much knowledge as possible.  We help you to understand:
How to get your eyelash business started and build your client base;
How to get paid by your clients and how much you should charge;
Your HMRC self employment responsibilities and the taxes your need to pay.
How to Get Started as a Self Employed Eyelash Technician
If you are in a job at the moment, no matter how unhappy you are, rushing to hand in your notice may not be the right thing to do.  So before you make the leap from employment to self employment here are some questions to ask yourself:
1. Where is your first client going to come from?
Being in a regular job means you receive a salary at the end of each month.  However when you move to be being self employed it is down to you to find your own clients, deliver the agreed work and then get paid, possibly on completion of work.  Have you found your first client or what is your plan to find your first client once you quit your job and how long will it take to find them?  Once you have found your first clients will you earn sufficient money to cover your living costs and what is your plan to find more work?
2. How much money do you need to live?
We suggest working out how much money you need to live each month (mortgage, bills, food etc).  Start by listing out all your costs on a simple spreadsheet, maybe add a little contingency in case there are some unexpected costs.  Bills such as rent, car payments or telephone bills will need to be paid each month on a fixed day, so make sure you have sufficient cash reserves to cover these until you receive your first client payment or regular payments.
3. Do you have all the equipment you need?
Make sure you are properly set up with everything you need to deliver your new work such as a computer or insurance.  Your clients will expect you to hit the ground running, so make sure you are fully set up with everything you need to avoid disappointment! Client recommendations is one of the best ways to win new business, so always provide the best service you can.
It is entirely possible to hold onto your job while you build up your client base to a point where you have sufficient income to live and then live your job because you are able to be employed and self employed at the same time.
4. Do you have the right training?
Eyelash technicians have the right training to give them the skills they need.  There are lots of courses available – NVQs, Brand Accreditations or Beauty Academies.  Having the right qualifications will mean you can present yourself as a credible and professional individual, with the right skills to do the job and help you get ahead of the competition.
5. Additional Services
There are many complimentary treatments that an eyelash technician can offer such as lash lifts or tinting.  By being able to offer your clients a full service you can win their loyalty, ensuring that they don't begin to use another eyelash technician.
6. Where do you plan to offer your services?
Many eyelash technicians are opting to offer a mobile service as well as having a treatment room at a beauty shop or even in their own homes.  Have you considered where you would like to work and also how your competitors in the area you plan to work in offer their services?
7. How will you build a client base?
Once you have got up and running, finding clients and making sales is what will make your eyelash business a success.  Whether you plan to stay in your job until you have enough steady income to go self employed full time, or are starting out without a job finding clients is key.  Setting up social media and/or a website to showcase your work will demonstrate your skills to potential clients.  Networking online, such as in facebook groups, is another way as well as asking all your existing clients to provide testimonials which you can add onto google or facebook.
Targeted Facebook and Instagram ads are another way to reach out to the right market in the right area to let them know you are in business and taking bookings as well as more traditional methods such as flyer drops and always walk around with business cards.
Signing up to third party apps like Treatwell is another way to get your name out there, just be warned they do take a percentage of all your sales. But the ability to reach out to potential clients may make this worthwhile.
8. How Do you Plan to Manage your Bookings?
The diary on your phone may be sufficient, but make sure it is backed up and is reliable – there is nothing worse than ending up with a double booking. If you are mobile, always make you leave enough time to travel between your clients.
If you plan to use a third party appointment app like treatwell, you will need to manage the bookings that come in online, so they automatically schedule out in your own central diary. Treatwell connect is one option, others are salonlite or shedul.
9. Branding
Depending on how much you wish to grow your eyelash business, branding may or may not be a key part of your startup plan. It is always possible to just get started and rebrand at a later date, when you have earned sufficient cash to do it properly.
Regardless you probably want to give you business a name and have a logo so you can set up your social media. Websites like people per hour have people waiting to create logos at reasonable prices, as well as simple websites to help promote your business.  Again these services will attract a cost which you need to cover so you may want to get a list of your start up costs together so you know how much you need to invest up front in your business.
10. Insurance
Running a business usually involves the need for insurance cover against loss, equipment damage and public liability so make sure you get this in place.  And don't be afraid to showcase that you have insurance cover to demonstrate your professionalism.
If you are planning on being a mobile eyelash technician and use your car to get around, then you should contact your car insurance policy and contact your insurer to make sure you are covered for business travel.
11. Licences
If you are planning to work from home you must be aware of the rules and regulations surrounding this.  We detail them in our blog Can Your Run a Business From Home and set out the 5 things you should consider:
Your rent or mortgage agreement
Insurance
Licences
Business Rates
Tax
How Much Should You Charge and How Do You Get Paid?
Deciding how much to charge for your services when you are self employed can be the hardest question to answer.  However the amount you charge is fundamental to you running your business and even paying yourself a salary so you can live.  Ultimately the amount you charge needs to be competitive, there is no point charging more than all of your competitors to try and make more money because clients will simply choose a cheaper option.  However if you offer a superior service or have more qualifications then a higher price may be justified. Here are some simple questions to ask yourself when you are trying to decide how much you should charge:
How much do my competitors charge?
How much do I need to make per day to earn a living and cover all the costs of running your eyelash business?
Can you offer an introductory offer at a lower price than your competitors to win clients and then increase your pricing?
If you are a mobile eyelash technician, do you make enough in a full day to cover the time needed to travel between appointments or should you set a radius within which you are willing to travel?
How Do You Get Paid?
Understanding how you can getting paid by your clients is crucial too – after all there is no point carry out a service and then not be able to accept a payment if your customers don't have cash on them.  Here are some options for payment:
Cash – obviously the simplest method but as we live in an increasingly cashless society only accepting cash may be inconvenient to your clients.
Credit/Debit card – being able to accept credit and debit card payments on the move from your customers is one way to simplify your payment process, as well as making things easier for your customers. Sumup is a really easy service to set up and the card reader is really small and easy to carry around with you.
Bank transfer – by providing your client with your sort code and bank account number, they can make a transfer to you straight into your bank account.
HMRC Tax Responsibilities for Self Employed Eyelash Technicians
When you are self employed you are responsible for your own taxes and national insurance (unlike if you were employed in a job and issued with a payslip each month showing your pay and deductions).
You can register online as Self Employed  on the HMRC website.  Check out my video tutorial which walks you through how to do this yourself.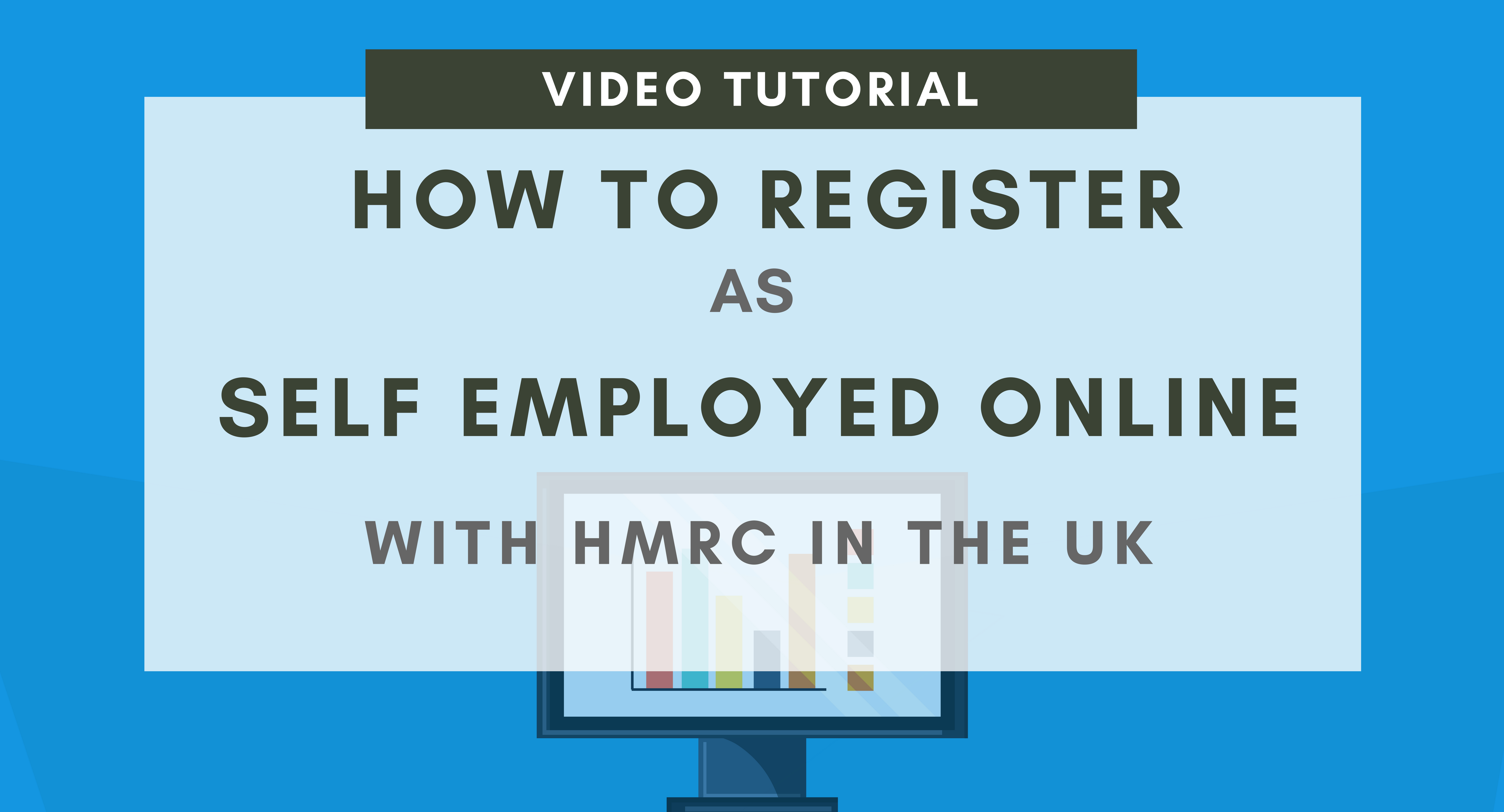 The process can take 10 days to complete upon which HMRC will post you a UTR number (Unique Tax Payers Reference). Keep this safe as you will need this code to file your Self Assessment Tax Return.
Once self employed you must then:
Set up a bookkeeping system that keeps a record of all your income and expenses, as well as filing all your receipts;
Complete a Self Assessment Tax Return by 31 January each year summarising your business income and expenses;
Pay any Tax due by 31 January each year (and payments on account by 31 January and 31 July each year).
Your tax return submitted by 31 January covers the previous tax year (a tax year runs from 6 April to 5 April). So for example, your tax return due by 31 January 2018 details your earnings between 6 April 2016 to 5 April 2017 and this will detail your income from cleaning as well as any other earnings you may have (such as from other rental income, bank interest or dividends).
It is also worth noting that if you already complete a Self Assessment Tax Return, for example because you collect rental income or have savings interest, that you need to complete a Form CWF1 to notify HMRC that you have a new form of income you need to report on.  Again, you can do this online here and you will need your Unique Tax Payers Reference.
When Should You Register with HMRC as a Self Employed Eyelash Technician?
You must register with HMRC as self employed as soon as possible after starting work as an Eyelash technician but HMRC rules are that you must register by 5 October in your business' second tax year.
However if you are newly self employed and expect that your gross income will be less than £1,000 in your first year, you may be entitled to the £1,000 Annual Tax Allowance for traders meaning you don't need to register and declare your income. Check the criteria to understand your eligibility and whether this allowance is the most tax efficient solution for you here.
How to Work Out Your Earnings as a Self Employed Eyelash Technician
When you are self employed you pay tax based on your profits of your work (all your income less all your costs) and the amount of tax you pay depends on how much profit you make.  Self employed individuals are also required to pay Class 2 and Class 4 National Insurance, which is again dependant on your profits.
How to Work out Your Profits
You need to add up all your income, which includes all cash payments as well as bank transfers, then deduct all your expenses (known as allowable expenses).
Allowable Expenses
When you are self employed it is really important to understand which are allowable as they reduce the amount of tax you have to pay.
Generally speaking most things you pay for as part of your work as an Eyelash technician will be allowable, here are some examples:
Computer, Printer & Apps

If you need to buy a computer and printer to use as part of your business these will be tax allowable so make a note and keep the receipt to discuss at tax time.
It is a common to have something, like a laptop, that you use for business and personal reasons.  In these types of cases HMRC allows you to only claim for the portion of the item being used for the business. So if for example you use your laptop 60% of the time for your business and the other 40% for personal things like internet shopping, facebook etc then you would only be able to claim for 60% of the cost of the laptop against your taxes.
Similarly if you choose to use apps, such as for diary management, then these again will attract tax relief.
Telephone and Internet

If you use your phone as part of your business (mobile and/or landline) and your internet, then your business portion will be an allowable expense.
Travel

If you need to travel around you will incur costs. Keep hold of your receipts for trains, tubes or taxis as they should all be allowable expenses and help reduce your tax bill.
Mileage
If you need to use your car to travel around then you should note down the mileage as this falls under the category of travel. Record your miles to and from your destination since you can claim 45p for the first 10,000 miles of driving and 25p thereafter.
Use of Home

If you choose to work from home then there are rules that will allow you to claim an amount for the running costs of doing so from your home as a portion of your household bills such as gas, water, electricity or rent.
Alternatively, HMRC allows you to claim a flat rate of £4 per week for using your home for work purposes and you don't need to substantiate this claim with receipts.
Wages
If you need some assistance and support from others then the cost of these individuals will be tax allowable since they are an incidental cost of being a self employed eyelash technician.
Marketing/SEO/PPC

Any marketing you do (online or offline), paid ads or anyone you pay to help you with your marketing is also fully allowable so make sure you download or ask your marketing assistant to send you an invoice before you pay them.
Accounting & Bookkeeping

Keeping accurate business records will help to avoid missing any entitlements or tax relief that you may be eligible for. If you buy an accounting spreadsheet then the cost is fully tax allowable. Then, if you choose to use an accountant to complete your self assessment tax return, again their fees will be an allowable expense. It is worth noting that keeping your business records in good order will help keep your accounting fees at a minimum.
Bank Charges

It is advisable to open a business bank account and keep your business and personal expenditure separate. The bank charges you pay on your business bank account is an allowable expense as are any fees you pay for payment processing.
All expenses must be supported by a receipt, so make sure you keep hold of all your paper or emailed receipts. It is also really important to be aware of which expenses are allowable for your business because incorrect claims can result in penalties. If you are unsure, always seek the help of a professional.
Top Tax Tip:
Even if you are currently not making any money as an eyelash technician, you must still register with HMRC and complete a tax return.  This may feel onerous, but completing a tax return means you can record all your startup expenses to create a tax loss.  This can then be used against any money you make in future tax years and save you tax at this point.
Recording Your Business Transactions
You will typically be paid in cash bank transfer or by card if you choose to offer a card payment service like Sumup. Like any self employed sole trader, it's important to keep accurate business activity records and store receipts that support all your business expenses. Doing so will make life easier when the time comes to completing your self assessment tax return and claiming for any allowances/reliefs that you are entitled to. Incomplete or inaccurate records will demand more time and hike up any accounting costs and can result in fines from HMRC.
When you are self employed using a spreadsheet to summarise your income and expenses is a straightforward, HMRC compliant way to record your business transactions especially with the introduction of making tax digital from 2019.  Making Tax Digital will require most self employed individuals to maintain their bookkeeping digitally and report on their earnings quarterly to HMRC.