This post may contain affiliate links. This means I might receive a small commission, at no additional cost to you, if you click and decide to make a purchase. Thank you for supporting my blog.
Directors loans can sometimes be the source of some confusion for Limited Company owners.
So if you have put money into your Limited Company or are worrying about how you get your money back, then this guide is for you.
I'll help you understand what you need to do when you put money in, the best way to track what you're owed, take it back out tax-free and avoid some of the common pitfalls Directors find themselves in.
This guide only applies to Limited Companies.
This post may contain affiliate links to products that I use myself. This just means I might receive a small commission, at no additional cost to you, if you click and decide to make a purchase. Thank you for supporting my blog. For more, you can read my complete disclosure here.
What is a Directors Loan?
Director's loan is the official term that's used for any money that you, or any other Director on your board, puts into your Limited Company or takes out.
It does not include the following types of payments:
Payroll salary payments;
Legally declared dividends;
Expenses repaid.
Classifying all your payments correctly will help you avoid being hit with additional tax charges, both personally and business-wise.
Examples of Directors Loans
I've built up a checklist of items over the years that I refer back to when preparing accounts to make sure I classify all money correctly before finalising any set of accounts:
Was any personal money put into the business for example as start-up money or to help during a cash flow problem;
Have they bought any products for the business that they forgot to claim money back for like a computer or laptop;
Are there travel expenses that they have paid personally but not claimed from the Company such as times when they top up an oyster card;
Have any payroll salary payment not been taken during the year;
Were any dividends declared in previous financial years that have not been paid;
Have they paid their personal tax from the Company bank account;
Are any personal expenses been paid for from the business bank account or company credit card.
Why Does Your Directors Loan Matter?
Your director's loan is a really important number, for several reasons:
By writing down in the Company Accounts exactly what you have put into your business means you know what you can take back. Maybe not immediately. But at a point when the business has the cash flow available to repay you;
Any money you repay yourself from your Directors Loan is tax-free. Unlike dividends or salary which are taxable forms of income, a loan is simply a refund. If I lend you £5 and you then give me back my £5, I haven't earned any money (watch out different rules apply for any interest charged);
By including exactly what you have put in will give you a true picture of what it has taken to get your business up and running;
Noting your Directors Loans mean you legally record what you are owed;
You'll have the opportunity to charge interest on your Directors Loans if you wish;
How to Record Your Directors Loans
Amounts a Director lends to or takes from their Limited Company is shown on the balance sheet.
Limited Companies must file a balance sheet once a year with Companies House. It is a legal document that logs everything a business owes or is owed.
That means it is important that you allocate everything on the balance sheet in relation to your loans so it is clear:
Exactly what you are owed by your Company and agreed by signing off the balance sheet;
How much you can tax back out of your Company tax-free;
In the event that you or another Director leaves the business, it is written down exactly what you or they are owed.
Directors Loan Account
A directors loan account is the virtual account that exists in the Company accounts to record all money put in and taken out by a particular Director.
It is also referred to as directors current account – it means the same thing and is often used interchangeably by accountants.
If there is more than one Director, it is normal to have a directors loan account for each person. It ensures absolute clarity of who put what in and how much each individual is owed.
If you put personal money into your business you'll be a creditor. In other words, you are owed money by the business.
If you take money out you'll be a debtor. You owe the business money back. Unless of course, you took it for valid business reasons, like repaying your expenses or to pay your salary.
The easiest way to keep an eye on your Directors Loan account is to keep on top of your bookkeeping.
If you use an accountant, ensure they have allocated everything correctly. It'll help to tell them what you have put in and taken out.
If you do your own bookkeeping then make sure you do your bookkeeping regularly so you have an up to date view on what you are owed.
You'll need to set up a Directors Loan Account in your chart of accounts. I use Quickbooks and the chart of accounts section is under the menu option "Accounting" on the left.
If necessary, you can add an account for your Directors Current Account in Quickbooks by clicking "new" in the top right-hand corner.
If you think you Business will owe you money then it makes sense to set up the account as a Creditor.
You'll then need to add the following details so that it appears on your Balance Sheet: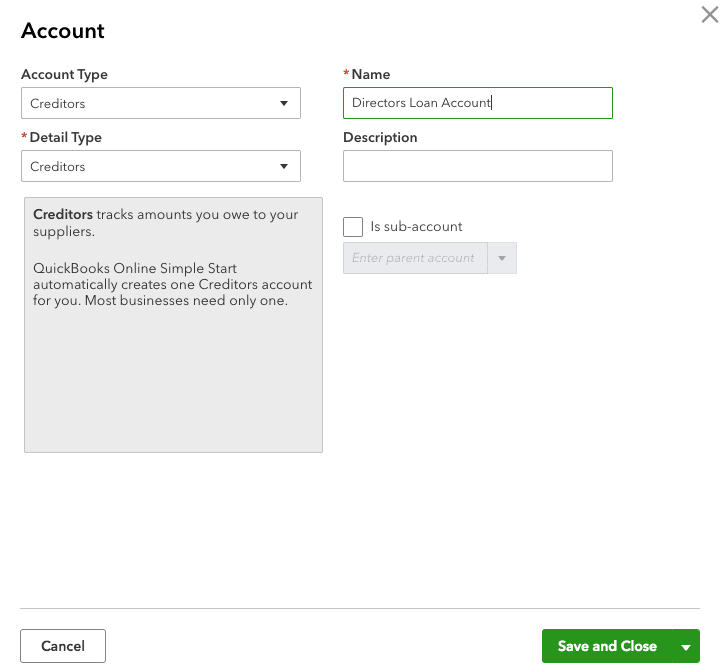 If you think that it is more likely you will owe your business money back, then set up the account as a debtor under "account type".
Want to Set Up on Quickbooks? Then Read My Quick Start Guide to Quickbooks
Double Entry for Directors Loans
Say you put £5,000 into your Company, the double-entry bookkeeping would be:
Dr Bank Account £5,000
Cr Directors Loan Account £5,000
If you then chose to buy a computer for £1,500 on behalf of the business then the bookkeeping entries would be:
Dr Computer £1,500
Cr Directors Loan Account £1,500
Remember you must keep receipts as evidence for anything you have paid for.
The total balance owed to you would be £6,500 and this would appear in the balance sheet as a creditor.
How to Repay Your Directors Loan
You can repay your loan at any time or in line with any formal agreements made.
But in reality, a Director may prefer to wait until the Company has sufficient funds and cash flow to repay the loan.
There are no tax or dividend implications to repaying any loans a Director has made to a Company.
How to Charge Interest on Your Directors Loans
If a business chose to borrow money from a bank it would need to pay interest.
So it is only fair that you are given the option to charge interest on the loans you make.
But while you can charge interest on your director's loan account, HMRC has some rules around what you can and can't do.
It can be a bit of a minefield and there are some tax implications you should be aware of.
How Much Interest Should You Charge?
You can choose to charge any interest rate you like, but it must be reasonable.
To figure out what "reasonable" means you could take a look at what the interest on a similar loan would be if the Company were to borrow from a Bank or other Lender.
Don't get too excited.
There are tax implications for charging an overly inflated interest rate on a Directors Loan.
You could face having to pay P11d Benefit in Kind tax if HMRC considers the rate charged you charge is unreasonable.
What Paperwork Do You Need?
The Director's loan account is one of the most scrutinised accounts by HMRC. So make sure you get your paperwork in order.
You'll need to draw up a loan agreement detailing dates, repayments and interest charges.
Aside from keeping HMRC happy, if there are other Directors or Shareholders this agreement can act as protection for you.
And don't forget to double-check whether this is all allowed under the terms of your Articles of Association.
How Do You Pay Yourself Loan Interest?
Once the interest terms have been agreed, the loan and interest can be drawn in line with the signed paperwork.
But, the Company must deduct income tax on the interest payments at the basic tax rate of 20%.
It's a bit like when you receive interest from the bank for one of your personal accounts.
Tax Implications of Charging Interest on a Directors Loan
There are a few other things both you as the Director and the Company need to be aware of:
The Company
The Company must keep in mind the following tax implications of the interest:
It will get corporation tax relief on the interest it pays;
It must submit a CT61 to HMRC to let them know what income tax has been deducted from the interest it has paid you.
The Director
For the Director making the loan:
The interest represents a form of income and must be declared on your self-assessment tax return;
There needs to be an adjustment for the 20% income tax deduction made when the Company paid you.
Overdrawn Directors Loan Account
An overdrawn loan account is a scenario that occurs when a Director draws out more than they are owed within a financial year.
It is surprisingly common and can happen where:
A Director takes too much salary;
Dipping into the Company Bank Account without keeping an eye on the balance sheet;
A dividend is paid but it is more than the Company can legally distribute;
A Director takes money for expenses but fails to keep a record/receipts these and record them in the accounts.
The Director must repay or offset the overdrawn amount within 9 months of the end of year-end to avoid any tax implications.
If they are unable to fix an overdrawn loan account this will result in tax for both the Company and Director.
The Tax Implications of an Overdrawn Directors Loan Account
An overdrawn loan account causes:
Company Tax (a section 455 tax charge on the corporation tax return)
Income tax for the director (the overdrawn amount is treated as an interest-free loan taxable benefit, requiring P11ds to be filled out)
What is a Section 455 Tax Charge?
The Company must pay additional corporation tax at 32.5% on the outstanding amount.
This amount will be refunded once the loan is repaid
What is the P11d tax charge?
If the overdrawn amount is more than £10,000 the loan will be liable to P11d tax.
A P11d form will need to be completed where a notional interest charge is applied at HMRC's official rate and tax on that.
This is not refundable, even once the loan is paid back.
How to Handle an Overdrawn Directors Loan Account
There are some things you can do if your director's loan account is overdrawn.
They will help you get back on an even keel and maybe avoid any tax charges.
Repay The Overdrawn Directors Loan Account
Repaying the loan is the simplest and quickest way to rectify the problem.
If this is repaid within 9 months of the Company Year End then no harm is done.
Although there will be a disclosure in the Company Accounts along with a note that the overdrawn amount has been repaid.
Claim For Any Missing Expenses
It is so easy to forget about cash spent during the year – lunches, client entertainment, mileage or Company payments coming out of personal money.
These amounts can be offset against the overdrawn loan account.
Account for Seed Capital or Investment Money
If the Director made loans to the business then check that everything lent is logged in the Directors Loan account.
Declare a Dividend
If the Director is also a shareholder, declaring a dividend is an easy way to fix an overdrawn directors loan account.
Always make sure the Company has sufficient reserves and profit to do this and the impacts on any other shareholders.
Write off the Loan Account
Writing off is the final option, but this shouldn't be taken lightly as it does have many implications and there are different ways to do it depending on the scenario you are in.
How to Write Off an Overdrawn Directors Loan Account
If you want to write off an overdrawn Directors Loan Account then it should be a last resort if there are no other ways to fix the position.
Here are three common scenarios business often find themselves in and how to handle writing off a directors loan.
The Company Is In Liquidation
When a Company goes into Liquidation a professional liquidator is called in to close down the company. They follow strict procedures to ensure that all the parties owed money are protected.
As well as taking steps to recover any money owed to the Company. This includes any money owed on an overdrawn Directors Loan Account.
The liquidator will review the books closely. If they find that an overdrawn directors loan has caused an otherwise profitable Company to fail, then they will take steps to demand that the Director repays what they have taken.
They will not hesitate to force a Director to liquidate personal assets to achieve this repayment, including bankruptcy if necessary.
The liquidator has the power to reinstate a written off Directors Loan account in the books.
This means reinstating the overdrawn loan account and demanding it is repaid.
If the Company is Closing Down
If the Company is closing down and all creditors have been paid then the overdrawn loan account can be written off.
But there are Corporation Tax and P11d Tax implications:
Corporation Tax
A Company needs to disclose on their Corporation Tax Return details of an overdrawn Directors Loan Account and pay a S455 charge.
This is a tax charge which is 25% of the overdrawn balance.
Benefit in Kind P11d Tax for the Director
If the overdrawn Directors Loan Account exceeds £10,000 during the tax year then the loan is considered a Benefit in Kind.
This attracts P11d Tax Charge on the Director at their highest rate of tax and may have some knock-on effect for payroll tax coding.
If the Company Continues to Trade
If the Director is unable to repay a Directors Loan then they can choose to write it off.
Again this will attract Corporation Tax and P11D Tax as above.
It is worth noting that if the Director repays the overdrawn loan account the Company would be able to get full repayment for any S455 charge paid.
Overdrawn Loan Account Disclosure
If your director's current account is overdrawn a disclosure will be made in your annual accounts.
The disclosure will include the Directors name and amount they owe back to the Company.
This may be a scary thought but it is really for the protection of anyone who is involved with the Company.
It demonstrates to shareholders how the Company is being run;
Lenders can see where cash has been taken;
HMRC may take action against Directors if there are unpaid business taxes.
Wrapping Up
The Directors Loan Account is one of the most important figures that a Director should be aware of.
Going overdrawn is a serious problem and attracts tax charges for both the Company and the Director.
The key to staying on top of your loans is to:
Logging everything that you are owed in your accounts;
Allocate all money you take out correctly
Stay on top of your bookkeeping on a regular basis.
Quickstart Guide to Quickbooks Simple Start
Anita is a Chartered Accountant with over a decade of experience taking self-employed business owners from financially confused to business savvy.
She is the creator of the 'Go Self Employed' website, which is her corner on the internet where she makes self-employment less terrifying.