In my previous life as an accountant, I commonly received requests to make a limited company dormant.
The reasons behind the requests vary from someone just wanting to take some time off to businesses sadly not working out the way they hoped.
Whatever your reason, there are some common questions I always get asked. So I put this guide together to answers some of those questions and share some extra advice to help keep you on the right side of the rules.
How to Make a Company Dormant
First of all, it may help you to understand exactly what a Dormant Company is. That way you can check you are eligible for dormant status.
A dormant company as defined by HMRC and Companies House is one with has no significant accounting transactions.
In essence, that means it has no business income or expenses with the exception of the few things you need to keep your Limited Company registered at Companies House such as:
Filing fees paid to Companies House;
Penalties for late filing of accounts;
Paying late filing penalties to HMRC;
Money paid for shares when the company was incorporated.
I have written a guide to Dormant Companies where I explore dormant status in more detail so you can check you are eligible for Dormant status with both Companies House and HMRC.
What Do You Need to Do To Make Your Limited Company Dormant?
Once you are sure you're ready to make your Limited Company dormant, then you will need to make sure you get your paperwork in order.
Depending on your business this will include:
Paying all suppliers;
Submitting all your corporation tax returns and paying any tax owed;
Paying all wages and salaries;
Getting paid by all your trade debtors;
Cancel your VAT registration, bring all returns up to date, pay any tax owed or refunds have been received;
Reverse any accruals or prepayments on your balance sheet;
Disposed of fixed assets;
Close your business bank account;
Cease trading.
The list is by no means definitive. You'll need to take a look at your own business to establish what you need to do precisely. But, in effect, you need to clear any debts you owe and that are owed to you. Especially if you are closing your business bank account.
How to Inform HMRC of Dormant Company Status
Once you have completed any outstanding returns you can then begin the process of letting HMRC know that you are no longer trading.
On the basis that you were in business previously, HMRC will continue to request Corporation Tax Returns unless you notify them otherwise.
Make sure you do let them know. You don't want to be hit with fines for not sending in returns that aren't actually due.
In my guide "How to File Dormant Company Accounts Online" I share advice on how to handle HMRC, including a sample letter that you'll need to send them.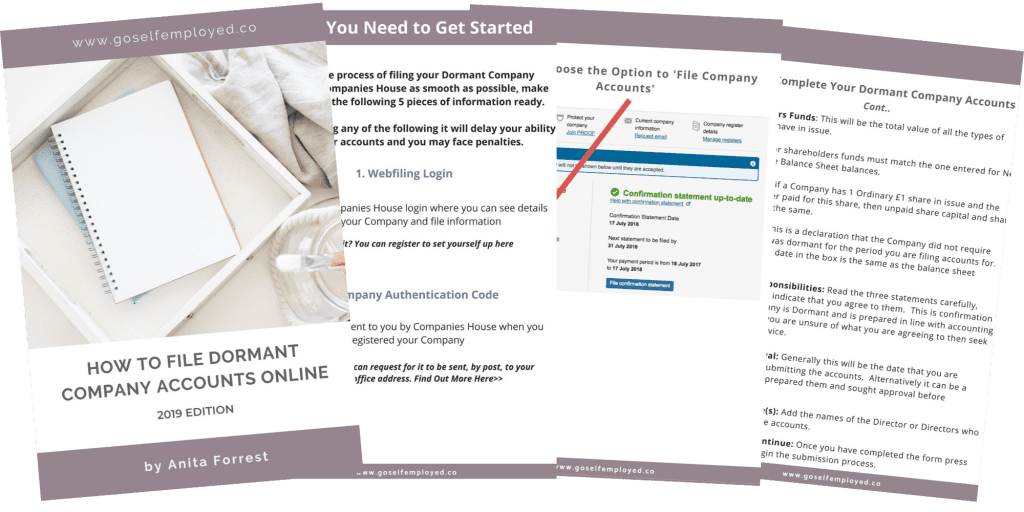 What Are the Filing Requirements for a Dormant Company?
Even though you have a dormant company, you still need to send Companies House and HMRC certain information each year.
It acts as confirmation that your Company has remained dormant each financial year.
The filing requirements for a dormant company are:
Dormant Company Accounts Online (AA02 Form) annually with Companies House;
Confirmation Statement annually with Companies House;
HMRC Tax Return annually or send a one-off notification that you can file Dormant Company Accounts Online.
You can read more about administration, HMRC and filing requirements in my detailed guide to dormant companies.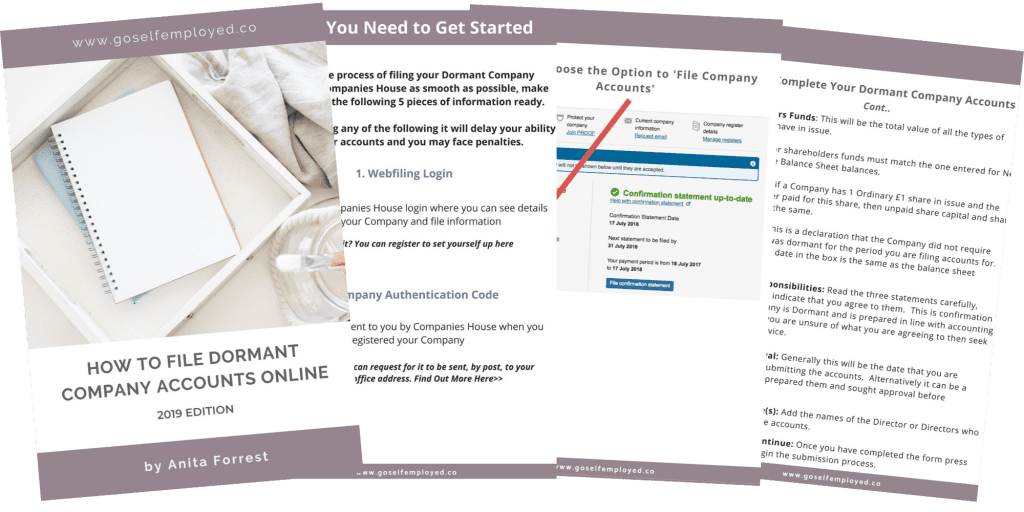 How long can a Limited Company be dormant?
A Dormant Company can remain dormant for any length of time. You just need to make sure you continue to file all necessary paperwork to keep it on the register at Companies House.
Can a Limited Company trade if it is Dormant?
Dormant companies by definition have no trade so any trade would be considered illegal.
Anyone who gets found out for trading through a Limited Company would face penalties and fines by both HMRC and Companies House.
So before you claim dormant status make sure you meet the definition for Dormant Company.
Can a dormant company have expenses?
Dormant companies have some basic expenses to keep them up on the Companies House register.
That's things like:
filing fees paid to Companies House
penalties for late filing of dormant accounts
late filing penalties for HMRC corporation tax return
money paid for shares when the company was incorporated
But it should not have any costs relating to trade.
Does a dormant company need a bank account?
You shouldn't need a bank account once you're Limited Company is dormant. In fact, it is recommended that you should not have one.
Before you cease trading you should make sure all your customers paid you and all tax has been repaid. Otherwise, you may not be able to receive the money once you close your bank account.
Is a dormant company a going concern?
A going concern is a business that operating and will remain in business for the foreseeable future.
Dormant companies represent a bit of a grey area when it comes to going concern status because it is in existence but not trading.
It is recommended that Dormant Companies are considered a going concern due to their mere existence.
Do I need to file CT600 for a dormant company?
If you don't notify HMRC of dormant company status then they will continue to expect you to file a CT600 annually, although there would be no tax to pay.
Alternatively, you can write to HMRC to avoid filing tax returns. There is a sample letter in my guide "How to File Dormant Company Accounts Online".
Can you take dividends from a dormant company?
Before you wind down your trade you'll need to make sure you take all dividends you are entitled to.
A dormant company that pays dividends will lose its dormant status because it has no trade or bank account to declare that payment.
Can a dormant company hold assets?
Generally speaking, a dormant company doesn't usually hold assets. However, there are some exceptions allowed by HMRC including the holding of a freehold property. This is because the company will never trade and simply exist to hold the property.
If the Limited Company collected rent on the freehold property then this would be considered a trade and it would not be dormant.
[mailerlite_form form_id=11]