VAT Deregistration can be done online or by post and, in many cases, is quite a straightforward process.  But what some business owners overlook is that remaining voluntarily VAT registered could be beneficial and choosing the wrong date for VAT deregistration could mean they can lose out on claiming back VAT or even have to pay HMRC.
The VAT deregistration process is an irreversible one so selecting the right time to submit your application is key to avoiding costly mistakes. Here we not only walk you through not only how to apply for VAT deregistration but also explore the pros and cons for doing so and help you to select the optimum time to get VAT deregistered.
Are you Eligible for to Apply for VAT Deregistration?
Just as HMRC sets out rule for VAT Registration, there are rules governing when a business VAT deregistration.
For 2017/2018 you cancel your VAT registration is taxable turnover for your business falls below £83,000.
What is Taxable Turnover? This is the value of your sales that would be relevant for charging 20%.  To calculate whether you should be VAT registered you would need to exclude any sales that would be exempt from VAT (such as insurance or some financial services).
If you are experiencing a temporary drop in turnover, it is advisable not to apply for VAT deregistration.  However if you are closing down your business or feel that there is a permanent drop in turnover, for example due to a market downturn or you choosing to take a step back from your business, then deregistering for VAT may be the right choice for you.
The Benefits of Staying VAT Registered
Even though your business may be below the VAT Registration threshold, it is entirely possible for you to remain voluntarily VAT registered. The benefits of doing will mean:
Your competitors won't be aware of your drop in turnover;

You can continue to claim VAT on the things your buy
However, you will still need to submit VAT returns and the cost/effort of doing so may outweigh the benefit of the reclaim.  Having a VAT registration also puts you at risk of investigations, another time consuming, and possibly costly, exercise you can choose not to put yourself at risk of.
Note: If you are closing down your business and have stopped trading, then you cannot remain VAT registered for the purposes of reclaiming VAT.
What You Should Be Aware of Before You Apply
The VAT deregistration process is irreversible so you should make sure you have considered the implications for deregistering for your business before you submit your application.
Choose Your VAT Deregistration Date Wisely
As part of the process you will be asked to select a date for VAT registration which can either be the date you submit your form or sometime in the future.  If you are expecting to make purchases on which there is VAT which you would normally reclaim, then you may want to consider waiting for these invoices to arrive so you claim the VAT in your final VAT return.
Review Your Level of Stock and Assets on Hand at the VAT Deregistration Date
As part of your final VAT return you will need to calculate the market value of your stock and assets that you hold. If the VAT based on the market value of these assets is more than £1,000 then you will need to PAY this figure over to HMRC.
For example: Mark sells computer equipment on eBay but his sales have dropped off due to high competition with other sellers so he has decided to deregister for VAT. His deregistration date is 1 October 2017 and at this date he held computer equipment with a market value of £6,500 excluding VAT.  On his final VAT return to 1 October 2017, Mark will need to pay over VAT on these goods of £1,300.
HMRC want to re claim this back from Mark because he claimed all the VAT on all these goods in previous tax returns, but has yet to sell them on.  If Mark wants to avoid paying this back to HMRC, it is advisable that he waits until he sells some of his stock to bring him to below the Stock Limit of £5,000 market value, excluding VAT.
Don't forget to keep all the paperwork to back up your calculations and workings for how you worked out the market value of your stock or assets – in the event of an inspection you would be asked to present these.
How to Apply for VAT Deregistration by Post
You can choose to print and complete a VAT7 form which you then post it back to HMRC. Their address is on the form.
How to Apply for VAT Deregistration Online
1 Login to Your Business Tax Account and select the option to 'Deregister for VAT' on the right hand side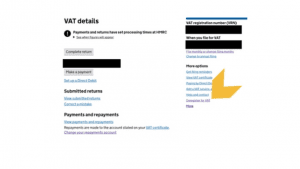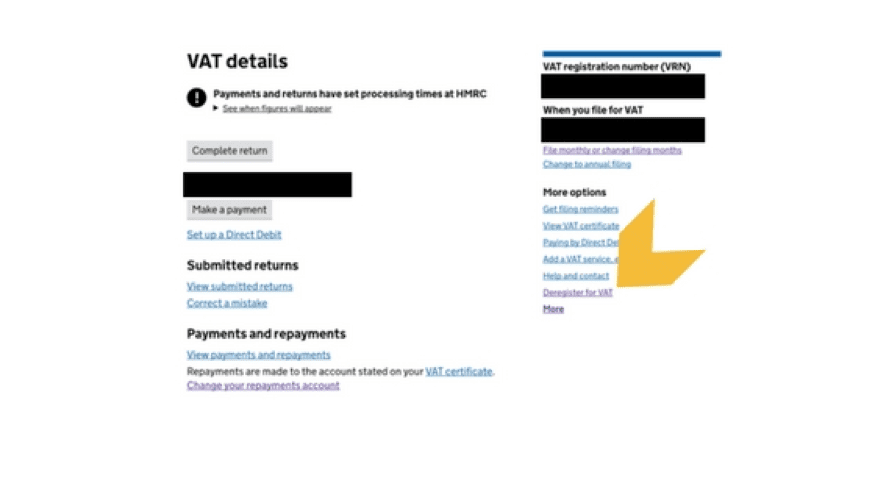 Alternatively if presented with the screen below choose to 'Change Registration Details' on the left hand.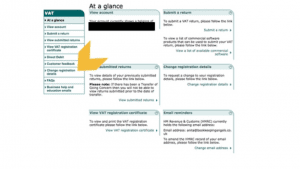 HMRC will ask you the date from which you will like to deregister for VAT – this can be the date you are applying or a future date. For example you have ceased trading, your taxable turnover has dropped below the VAT threshold.
What Happens Next
Once you have completed your application form, it can take HMRC up to 3 weeks to approve your request to deregister for VAT.  At this point you will need to complete a final VAT return which will probably be from the date of your last VAT return up to the deregistration date.  This return will appear online for completion, much like your previous quarters but will be marked FINAL.
You must continue to account for VAT as normal up until the date that your deregistration takes place.
Although the process of applying for VAT deregistration is pretty straight forward, it should not be done without considering your business position because a mis-timing could cost you. In fact you may even find that deregistering may not even be the right choice for you at all but if you are in any doubt we recommend you seek a professionals advice.
Related: