Deregistering for VAT is usually quite straightforward and can be done online or by post.
But what some business owners overlook is that remaining voluntarily VAT registered could be beneficial. And that choosing the wrong date to cancel your VAT registration could mean you end up overpaying on VAT.
The VAT deregistration process is an irreversible one and once your VAT number is cancelled you cannot get it back.
So choosing the right time to submit your application is key to avoiding costly mistakes.
Here's a step-by-step guide to:
some advice on the pros and cons for doing so;
how to choose the right time to do it.
Can You Cancel Your VAT Registration?
You can cancel your VAT registration once the taxable turnover of your business falls below £83,000.
What is Taxable Turnover? It is the total value of sales that would be relevant for charging 20%.
If you are experiencing a temporary drop in turnover below £83,000 then you may not want to deregister.
But if you are closing down your business or feel that there is a permanent drop in taxable turnover then it may be right for you to cancel your VAT registration.
Pros and Cons of Being VAT Registered
Even if the taxable turnover of a business falls below £83,000, some choose to remain voluntarily VAT registered.
Pros
The pros of remaining VAT registered include:
Hiding your drop in turnover from your competitors;

Continuing to reclaim VAT on purchases

.
If you remain VAT registered, you will need to continue to submit VAT returns as normal. So the cost/effort of doing so may outweigh the benefit of the reclaim.
Cons
The cons of staying VAT registered include:
Risking VAT investigations by HMRC which can be time-consuming;
Hassle of continuing to submit VAT returns.
Benefits of a Voluntary VAT Registration
Note: If you are closing down your business and have stopped trading, then you cannot remain VAT registered for the purposes of reclaiming VAT.
When To Deregister for VAT
The VAT deregistration process is irreversible so make sure it is right for you and your business before you apply.
What VAT Deregistration Date Should You Choose?
When you complete the form to cancel your VAT registration you will be asked to choose the date you want your VAT to stop.
The date you choose can either be the date you submit your VAT deregistration form or sometime in the future.
The date you choose could save you money on your final VAT return or even mean you end up with a tax bill.
So before you choose your deregistration date, do a quick to check on your:
Upcoming purchases;
Stock levels;
Upcoming Purchases
Check whether you are expecting to make purchases on which there is VAT that you'd normally reclaim.
You may want to consider waiting for these invoices to arrive so you claim the VAT in your final VAT return.
Stock Levels
As part of your final VAT return, you will need to calculate the market value of your stock that you hold.
If the market value of the stock on hand is more than £5,000 excluding VAT pay HMRC 20% of the value on the final VAT return.
Example
Mark sells computer equipment on eBay but his sales have dropped off so he has decided to cancel his VAT registration.
He chooses a deregistration date of 1 October 2017.
At this date, he had stock of computer equipment with a market value of £6,500 excluding VAT.
On his final VAT return to 1 October 2017, Mark will need to pay over VAT on these goods of £1,300 (£6,500 x 20%).
He needs to repay this to HMRC since he intends to sell the computers after he deregisters.
HMRC are clawing back a portion of the VAT he claimed on buying the stock.
If Mark wants to avoid paying this to HMRC he can wait until he sells some of his stock to bring him to below the Stock Limit of £5,000 market value.
Fixed Asset Levels
If the market value of fixed assets is more than £1,000 then you need to pay 20% of this amount over to HMRC on the final VAT return.
Don't forget to keep all the paperwork to back up your calculations and workings for how you worked out the market value of your stock or assets – in the event of an inspection you would be asked to present these.
How to Deregister for VAT by Post
You can choose to print and complete a VAT7 form which you then post it back to HMRC.
The address to send your completed form to is shown on the bottom of the form.
How to Deregister for VAT Online
1 Login to Your Business Tax Account and select the option to 'Deregister for VAT' on the right hand side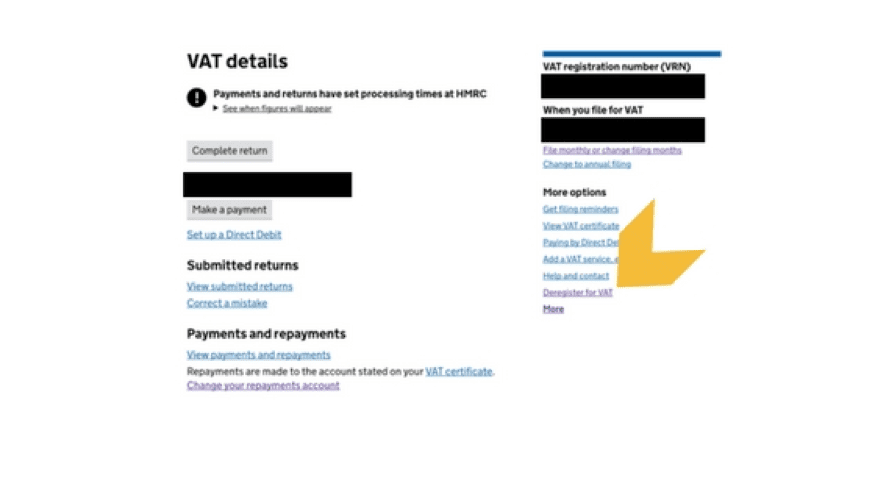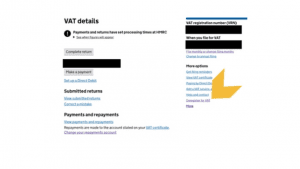 Alternatively if presented with the screen below choose to 'Change Registration Details' on the left hand.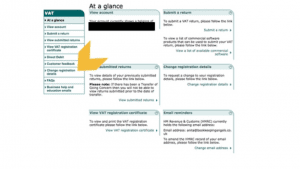 HMRC will ask you the date from which you will like to deregister for VAT – this can be the date you are applying or a future date.
What Happens Once You Cancel Your VAT Registration
Once you have completed your application form, it can take HMRC up to 3 weeks to approve your request to deregister for VAT.
Once agreed by HMRC you will need to complete a final VAT return. This final VAT return will probably be from the date of your last VAT return up to the deregistration date.
This return will appear online for completion, much like your previous quarters but will be marked FINAL.
You must continue to account for VAT as normal up until the date that your deregistration takes place. If you are unsure about deregistering for VAT then always contact a professional for support.
FAQs
What is the Deregistration Limit for VAT?
The deregistration limited from 1 April 2017 is £83,000.
Can I Backdate VAT Deregistration?
No VAT deregistration applications cannot be backdated. You can either choose the date that you complete the form or a date in the future.
What Happens if I Deregister for VAT?
If you deregister for VAT you'll no longer have a VAT number, be able to reclaim VAT on your purchases and won't need to continue submitting VAT returns.
Can I Re-Register for VAT after Deregistration?
Yes if your taxable turnover increases again you can re-register for VAT. However, you will need to fill out a new application form and will be issued with a new VAT number. An old VAT number cannot be reactivated.
Where Can I Find the VAT Deregistration Form
You can find the VAT deregistration form either online in your government gateway account or download a VAT 7 form from the HMRC website.
Deregistering for VAT when Using the Flat Rate Scheme
Where a business cancels its VAT registration and has been using the flat rate scheme, there are two dates leaving dates – one for the flat rate scheme, another for VAT registrations.
The business will leave the flat rate scheme one day before it deregisters fully for VAT.
It must prepare all outstanding sales invoices before leaving the flat rate scheme.
On the final day, the business will operate under the rules of standard VAT. That means it can reclaim VAT on purchases on this date.
So it can be beneficial for the business to get as many invoices dated on the final day it is VAT registered. That way it can claim back all the VAT on the final VAT return (subject to the rules of stock and assets).
Updated 7 January 2020