If you've discovered that you still have old 5 pound notes, then you are not alone.
Believe it or not but the Bank of England estimates that 124 million old 5 pound notes are yet to be exchanged!
What Does the Old 5 Pound Note Look Like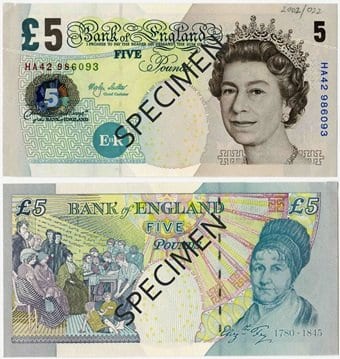 Can You Still Use Old 5 Pound Notes?
No, you can no longer use an old 5 pound note as it ceased to be legal tender on 5 May 2017.
That means from this date they were officially taken out of circulation and replaced by the new version.
How to Exchange Old 5 Pound Notes
So you don't lose out on your money, there are a number of ways you can exchange your old 5 pounds notes:
1. At the Bank of England
The Bank of England offers a counter service where you can simply turn up and do your exchange your old notes for new ones.
Their address is:
Bank of England, 
Threadneedle Street,
London,
EC2R 8AH
You'll need to take two forms of ID with you (one with your address, like your driving licence).
The Bank of England do warn that there can be long queues, so they advise that you exchange your old 5 pound notes by post.
2. By Post
You can post your old 5 pound notes to the Bank of England, which may be easier if you are worried about waiting times or don't live in London.
You need to complete a form and post it back, along with copies of 2 forms of ID (one photo ID and a proof of address) to:
Department NEX,
Bank of England,
Threadneedle Street,
London
EC2R 8AH
Download the Bank of England Banknotes Exchange Form.
Once received, the Bank of England will process your exchange and deposit the funds into your bank account.
3. At a Bank
Although banks put a deadline on it originally, some banks have agreed to continue exchanging old 5 pound notes.
It's mainly high street banks including:
Barclays
Natwest
Halifax
Lloyds
So you could take your notes to a bank to check if they can help you exchange them or have your old notes banked directly into your account.
4. Your Local Post Office
If you can't get to a bank or don't have a local branch near you, then the Post Office offer a service where you can take in your old 5 pound notes.
The Post Office will then bank your money into your account on behalf of your bank.
Do you want to Go Self-Employed? Not sure where to start? Then check out my Free 10 Step Guide to Going Self-Employed.