One way to record the fuel scale charge in Xero is to use a manual journal.
Here is an example of a vehicle which falls into the CO2 band of 200 – 204 and these are the figures that need to be included in the fuel scale charge journal on Xero:
| | | | |
| --- | --- | --- | --- |
| CO2 band | VAT fuel scale charge, 3 month period (£) | VAT on 3 month charge (£) | VAT exclusive 3 month charge (£) |
| 200 -204 | 422 | 70.33 | 351.67 |
The fuel scale charge needs to be included in Box 1 (£70.33) and Box 6 (£351.67) of the VAT return.
Xero does not allow you to post to an expense code in P&L using 20% VAT on Income. So a journal needs to made firstly to record the fuel scale charge for VAT purposes using suspense. Then secondly a journal needs to be made to clear suspense and leave the fuel scale charge correctly in motor expenses (or whatever code suits your business).
Here is the journal entry to record the Fuel Scale Charge on Xero: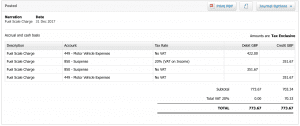 The VAT Fuel Scale charge is easy for VAT inspectors to check so always make sure you record it correctly and use the right amounts as they change each year.
Read More!
How to Work Out HMRC VAT Fuel Scale Charges