How to Get Your SA302 Tax Calculation Form and Overview Online. Your SA302 is an official HMRC document that confirms your tax and income which you can download online.
You can get your SA302 form online or you can order it by phone. It is an official HMRC document confirming your tax and income.
So for that reason, you need to either log in to your HMRC online account or call them to get it.
When you apply for a loan or mortgage you need to prove your earnings. And the more earnings you can show the more eligible and amount you can borrow.
An SA302 Tax Calculation Form acts as evidence from HMRC of your income for lenders. So it backs up what you have put in your application form.
Depending on what you are applying for you may need to provide more than one SA302 Tax Calculation Form. This is because one form only covers one self assessment tax return.
Your mortgage advisor or lender will advise you of what is needed as part of your application.
What is an SA302 Form
An SA302 form is an HMRC document that is now becoming known as a Tax Calculation Form.
It shows:
All your different forms of income declared on your self-assessment tax return form like rental income, self-employment income and dividends;
How tax on all your income was worked out.
One SA302 form covers one tax year.
A UK Tax year runs from 6 April to 5 April. So your SA302 form for 2018/2019 will summarise all your income and tax calculations for 6 April 2018 to 5 April 2019.
Why Do You Need to Get Your SA302 Form
Your SA302 form is commonly requested as part of lending or mortgage applications:
As evidence of your earnings declared in the application;
Verify affordability if you are self employed and run your own business;
Commonly you may be asked to get your Tax Overview as well as your Tax Calculation.
What Does an SA302 Look Like?
An SA302 is made up of two parts – your tax calculation and tax overview.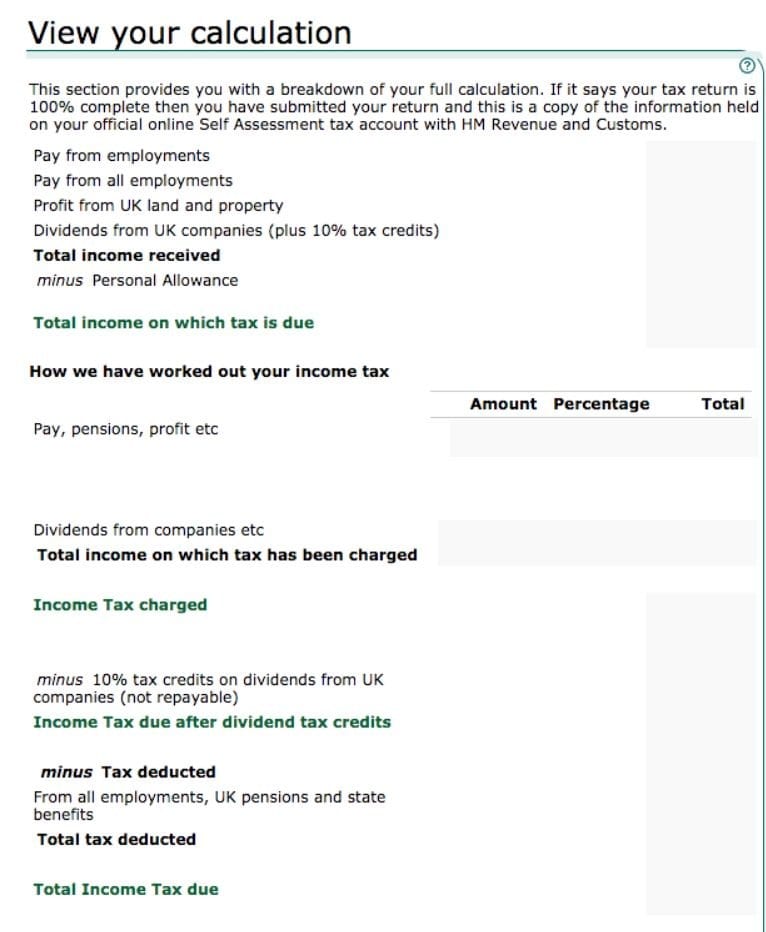 What is a Tax Overview Form?
A tax overview form is a summary, by tax year, of:
Total tax payable;
How much tax has been paid;
Unpaid tax, if any.
Here is what a Tax Overview Form looks like:
How Can I Get My SA302 Form Online
You can get your SA302 from HMRC by going online, assuming you are up to date with filing your self-assessment tax return forms.
Check with your lender or broker exactly what you need. But the two documents you are most likely to need are:
Tax Calculation – which is a summary of your total earnings and tax from your submitted tax return;
Tax Overview – which confirms that you have fully paid up your tax.
Each tax calculation and overview is for one tax year. So if your application requires evidence going back 3 years then you need 3 tax calculations and 3 tax overviews.
How to Get Your SA302 Tax Calculation Form Online
Choose 'More Self Assessment Details'
Click on 'Get Your SA302 Tax Calculation'
Continue to Your SA302
Select the option to 'Print Your Full Calculation'
To print for a different tax year choose 'Tax Return Options' on the left-hand menu
Select the year you require
Choose the option to 'View Your Calculation'
Click 'View and Print Your Calculation'
View a sample HMRC Tax Calculation HERE
How to Get Your Tax Year Overview Online
Select View Account on the left hand menu
Click Tax Years on the left hand menu
Choose the required Tax Year from the drop down menu and hit Go
Click 'Print Your Tax Year Overview'
View a Sample HMRC Tax Overview HERE
How to Get Your S302 Form by Phone
You can get your SA302 form from HMRC by phoning them on 0300 200 3300. They will then post the document to you.
Updated 9 July 2019
Anita is a Chartered Accountant with over a decade of experience taking self employed business owners from financially confused to business savvy.
She is the creator of the 'Go Self Employed' website, which her corner on the internet where she makes self employment less terrifying.