Starting my website was the best thing I ever did! I had no idea how rewarding running it would be, how addictive it is to write content and that it could actually pay me a full-time income. It hasn't been easy and I openly admit that I made a lot of mistakes when I first set up a WordPress website.
I put this step-by-step guide together to help you set up a website the right way and avoid some of the silly mistakes I made that cost me money, and worst of all, time. Because when it comes to the world of blogging, speed is everything.
I'm non-technical so if you are a complete beginner to websites, then this guide will be perfect for you. There are quite a few actions and you may need to go away and have a think about things. So, it may help you to bookmark this page so you can come back to it.
Let's get started!
Table of Contents
In this guide, I only cover setting up a website on WordPress. There are other builders out there like Wix.com, which are free and easy to set up. But, if you are looking to optimise your SEO and want to rank well on Google, WordPress really is the way to go.
1. Sign Up for Hosting
Signing up for hosting is pretty straight-forward, even if you aren't technical. The hosting company I use is Siteground. They are reasonably priced, have always helped me whenever I've needed it. Plus, I've never had any outages.
1.1 Click this link to sign up with SiteGround
1.2 Choose the option for "Managed WordPress Hosting"
1.3 Choose the Your Plan
SiteGround has three plans:
The StartUp plan is perfect for people with one website that are starting now.
The GrowBig plan is a great value for money offer, including the option for multiple websites and the SuperCacher that greatly improves website speed.
The GoGeek plan is perfect for people with e-commerce and larger sites, or those with more geeky development needs.
If you are just starting out with your first blog, I'd recommend the StartUp Plan. It's the cheapest and you can always upgrade later on.
1.4 Pick a domain name
Your domain name is your web address on the internet. When it comes to naming, always make sure you choose something that is easy to say, looks good written down without punctuation and is related to your niche. You could consider using your own name especially if you want to build yourself up as an authority online. And if the domain you want isn't available, you could use modifying words like 'the', 'get' or 'buy'.
There are mixed views about choosing between .com or co.uk or .co, the views. Naturally having .com is going to be the most prestigious, but in reality, a lot of those domain names are taken. And even if you can buy them, they can attract an extortionate price.
Enter your desired domain into the checker to see if it is available. If it isn't available, SiteGround will suggest some alternatives or you can just keep checking until you find something that is available which is suitable. And don't forget to check that social media handles are available to match!
Once you have found the domain you like, proceed to payment and choose the option that is right for you. There will be deals available, depending on the length of time you want to buy the domain. You'll need to renew the domain at the end of the term, but SiteGround will automatically charge the card in the account so your blog won't go down due to non-payment.
2. Set up WordPress
You're all registered! So you now own your domain for your website. The next step is to start setting up WordPress and luckily SiteGround actually has a setup wizard that does all the hard work for you.
Once you've successfully signed up for hosting you're presented with the following screen. This is where you can choose the option to "set up site" (the orange button).

You'll be taken to a new page where you can start a new website or migrate an existing one. Click on Select under Start New Website.
Choose WordPress and enter the preferred login details for your new WordPress application. Once you are ready, click on Continue.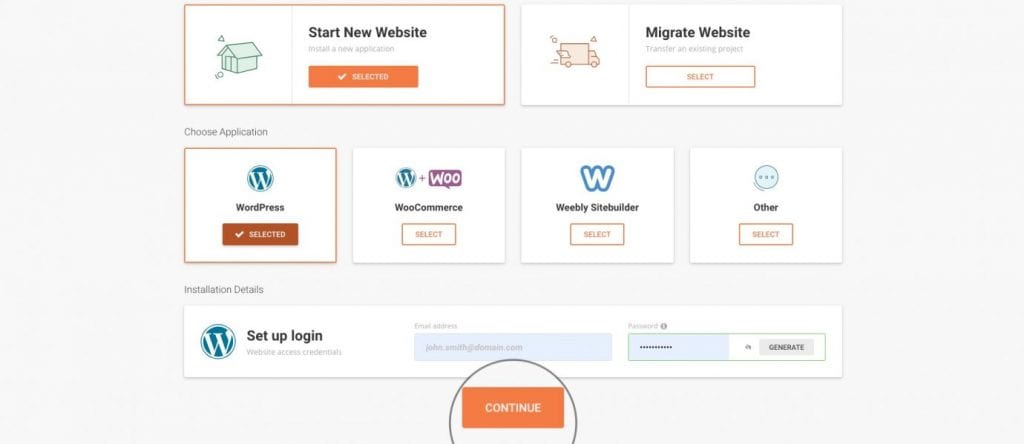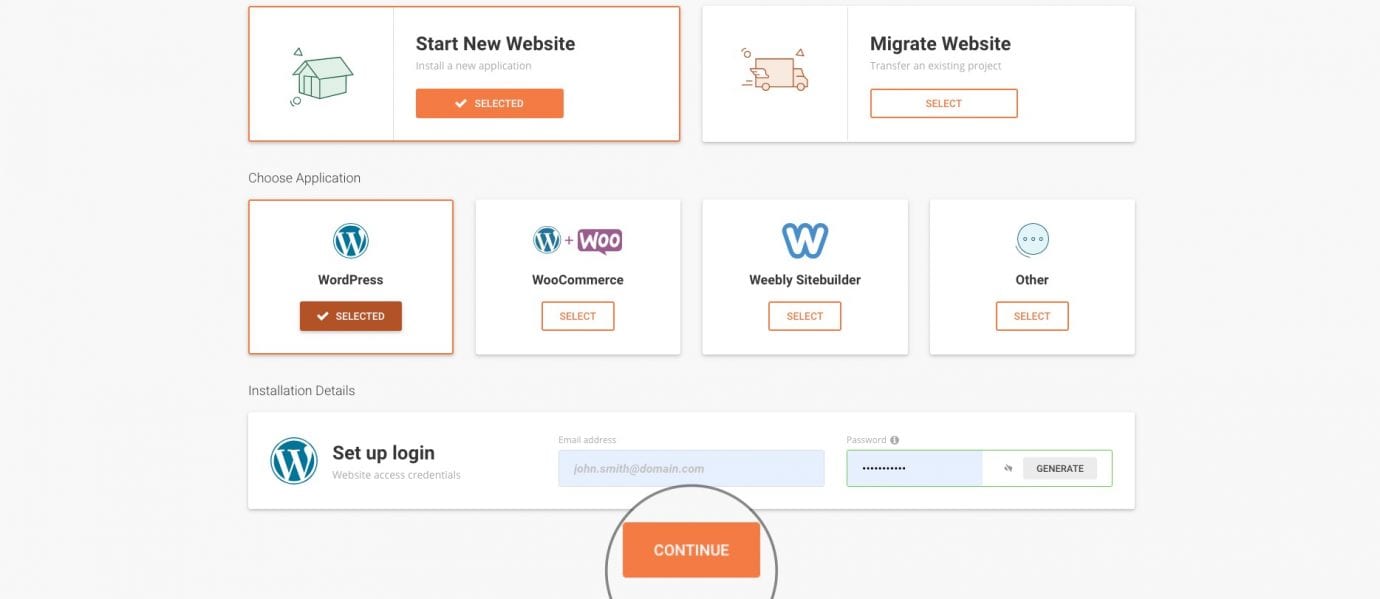 Next, choose what enhancements you wish to add to your account – if you want to add any. When you are ready with this step – click on Finish.
That's it! You can now go to the front page of your site and check out the newly installed WordPress application by clicking Manage Site.
3. Pick a WordPress Theme
It's time to get creative because this is the part where you start to make your website look how you want it to. Unless you're a hard core coder, you're best bet is to use a template which installs some basic functionality and designs that you can use. This is what we call a Theme.
A theme gives you a framework to work within so you can set up your website and add your words, images, logo etc. as well as make changes to the basic design.
There are literally THOUSANDS of WordPress themes out there! Each one caters to the needs of different businesses whether they offer professional services, ecommerce products, bloggers or sell courses. But, this huge variety means confusion because it's hard to pick one that works well and offers support. The trick is to find one that is as close to what you imagine for yourself as possible, that way you won't have to make too many difficult changes.
I've tried loads of themes, but my favourite is GeneratePress.They have a reasonably good selection of templates you can use and edit in their Site Library and offer detailed help when it comes to opening them in your WordPress Site.
If you can't find anything you like from GeneratePress, then you can also take a look at Divi by Elegant Themes. This is a really popular option in the online world because it gives you the chance to get really creative and use their builder to design your own pages. They also have tons of layouts you can use and it integrates with WooCommerce, if you plan to sell products and take payments. GeneratePress is definitely easier to use if you just need a simple website to showcase your business, although it offers less functionality.
Once you've purchased your GeneratePress theme, you'll be given files that you need to install on your WordPress site so download them. Head back to your WordPress dashboard and choosing Appearance >> Theme >> Add New >> Upload Theme. You'll then need to upload the .zip file you have.
4. Start Customising
Now press activate, and your theme is ready for you to use. There are three main areas you should start editing – the theme, pages and posts.
4.1 Customise Your Theme

First things first, customise your colours, logo and fonts (or typography) by going to your WordPress dashboard and selecting Appearance >> Customise. This area contains 'master' settings for your site. So, for example, if you change a font, all your pages update at once, saving you the hassle of changing them one by one. Work through each of the settings and you'll see how the changes look in the preview window. Once you're happy press "Publish" to save your changes.
4.2 Add or Edit Pages
Depending on the theme you have chosen, you'll have a number of pages to edit and update with your own text and images such as your home page, about and contact. Again you'll find your pages in the menu on the left hand side in your WordPress dashboard.
If you need images there are plenty of free sites where you can download high resolution pictures such as Pixabay or Pexels.
If you do create new pages, don't forget to add them to the main menu otherwise no one will be able to find them! You can edit the menu structure of your website by going to your WordPress Menu >> Appearance >> Menus. Don't forget to press save when you're done!
4.3 Add Posts
Posts are also known as blogs or articles. They are grouped in a separate section of WordPress so that your theme knows where to find them and can display them correctly on your live website. You can add new blogs by going over to the post section of your WordPress menu and depending on which theme you chose, you may need to have a couple ready for your template to automatically display.
With posts, you can categorise them into groups or topics to make them easier to find, so as you begin to add blogs you can start to assign them into different categories as you write them.