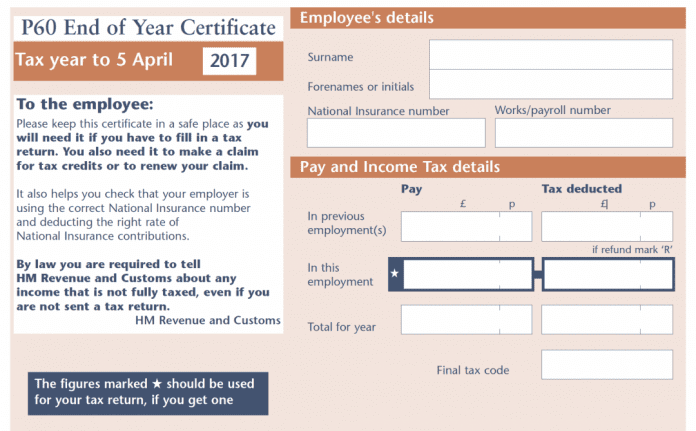 A lost P60 can cause a lot of frustration.  It can hold up mortgage applications, stop you filling out your tax return or mean you get over taxed!
What to Do About a Lost P60
If you have lost your P60 then there are a couple of ways you can get a P60 or a replacement one:
Approach Your Employer
Employers must hold onto copies of P60 they issue for 3 years.  So they should have a copy of your lost P60, although it will say 'Duplicate' on it.
If you need to go back further than 3 years and your Employer does not a P60 form available you could ask them to issue a 'Statement of Earnings'.
An employer is not obligated to give you a copy of a P60.  So if they refuse you're next best option is to contact HMRC.
Speak to HMRC
Unfortunately HMRC are unable to issue a copy of a lost P60.  It is a form prepared by an Employed but not sent to HMRC.
HMRC should be able to provide your with official information regarding your earnings and tax deductions.
You can call HMRC on 0300 200 3300 or find an alternative way to contact them here. You'll need your National Insurance number which you can probably find on a recent payslip.

What is a P60
A P60 form is a summary of earnings and tax/national insurance deducted during a particular tax year. The tax year runs from 5 April to 6 April.
A P60 for 2018 would relate to 6 April 2017 to 5 April 2018.
Why is a P60 Important
A P60 is a summary of earnings and tax, but its importance depends on the person who is using it.  Here are some common examples:
A mortgage lender uses it to confirm gross salary as part of checking affordability;
To someone who filling out their self assessment tax return form, the P60 tells them how much tax they have already paid;
For someone claiming a tax refund their P60 proves how much tax they have already paid.
Don't forget to check out my Business Hub which contains templates and guides to help you manage your finances if you're self employed. Or find me on Facebook sharing more useful advice.