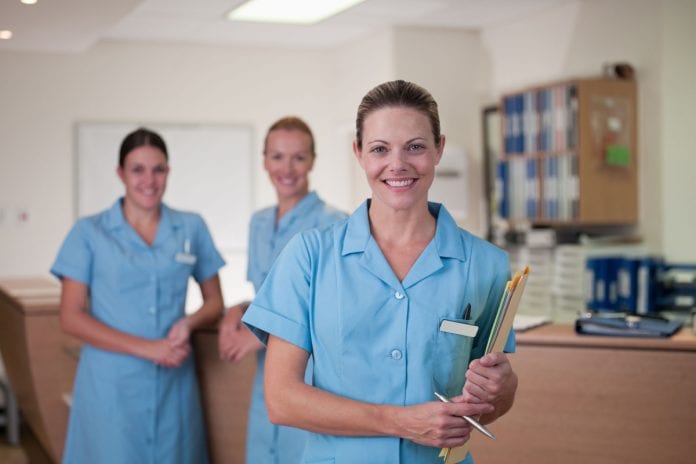 If you are a NHS or healthcare worker then you may be entitled to claim a tax rebate for the cost of washing, maintaining and replacing your uniform.  In addition, NHS and healthcare workers are allowed to claim an additional tax rebate for the cost of shoes and tights.
How the NHS & Healthcare Uniform Tax Rebate Works
HMRC sets out rules by which you can claim a tax rebate when you use your own money to wash, repair or replace your uniform.  You can choose to either claim
for what you have spent but you'll need to keep receipts or;
a flat rate deduction at a set amount fixed by HMRC for which no receipts are required.
The amount you receive back depends on the tax rate you pay. So if you claim £60 and pay tax at a rate of 20%, you will receive a £12 tax rebate. You will receive your tax rebate through your tax code.  HMRC will notify you and your employer of a change in your tax code.  This change in tax code will mean that your employer will amend the amount of tax they deduct from your pay to ensure that you receive your uniform tax rebate from HMRC.
You cannot claim for a uniform tax rebate in following circumstances:
for the initial cost of buying your uniform;
if you employer has reimbursed you for costs;
if you employer provides you with facilities at work to wash your uniform.



How Much is the NHS & Healthcare Uniform Tax Rebate
If you have receipts you can claim for the actual costs of looking after your uniform.  However HMRC sets out flat rate amounts that NHS and Healthcare workers can claim for.  You can find the full list HERE but here are some of the set rates that Healthcare staff in the NHS, private hospitals and nursing home can claim for:
| | |
| --- | --- |
| Ambulance staff on active service |  £185 |
| Nurses, midwives, chiropodists, dental nurses, occupational, speech, physiotherapists and other therapists, healthcare assistants, phlebotomists and radiographers. |  £125 |
| Plaster room orderlies, hospital porters, ward clerks, sterile supply workers, hospital domestics and hospital catering staff. |  £125 |
| Laboratory staff, pharmacists and pharmacy assistants. |  £80 |
| Uniformed ancillary staff: maintenance workers, grounds staff, drivers, parking attendants and security guards, receptionists and other uniformed staff. |  £80 |
If your occupation isn't listed, you may still be able to claim a standard annual amount of £60 in tax relief or contact HMRC on 0300 200 3300 to get advice on what you should claim.
Tax Rebate for Stocking/Tights and Shoes
NHS and healthcare works can benefit from making an additional claim for stocking/tights and shoes that they are required to wear as part of their uniform of £12 and £6 per year respectively.
Again, HMRC sets out the rules HERE but here is what they say:
Expenses deductions may be permitted to nurses of all grades including midwives, for expenditure incurred and defrayed by them on the repair and renewal of shoes and stockings/tights:
shoes: where the wearing of a prescribed style is obligatory in the hospital or other workplace in which they may work allow £12 per year.
stockings/tights/socks: where the wearing of a prescribed style or colour is similarly obligatory, allow £6 per year.
References to a nurse should be taken for this purpose to include nurses and midwives of all grades and includes auxiliaries, students, dental nurses, nursing assistants and healthcare assistants or workers.
How to Claim Your NHS & Healthcare Uniform Tax Rebate
Once you have worked out how much you are eligible to claim, there are several different ways to make your claim but which one you need to choose depends on your own circumstances:
Tax Rebate Claims Up to £2,500
Completing a P87 form online HERE and returning the form by post to the address included at the end of the form;
Online by either creating an online account or accessing your exiting HMRC account HERE;
Phoning HMRC on 0300 200 3300, if you have claimed successfully before. Make sure you have your national insurance number ready;
On a self assessment tax return, if you complete one already for other reasons.
Tax Rebate Claims over £2,500
You can only claim for your uniform tax rebate using a self assessment tax return. You need to register with HMRC, which you can do HERE, in order to complete your self assessment tax return online. The HMRC registration process can take up to 10 days and once it is completed you will receive a letter from HMRC with your UTR number (Unique Taxpayers Reference). Keep this safe as you will need this code to file your Self Assessment Tax Return.
Top Tax Tip
HMRC states you can claim within 4 years of the end of the tax year that you spent the money. This means if you have missed any claims in the previous 4 years you should be able to claim retrospectively for your missed tax rebates.  It is advisable to call HMRC on 0300 200 3300 to discuss historic claims before you submit them.