Starting an online business has never been easier, but working out how to make money can feel daunting. If you're looking for self-employed ideas or a side hustle that bumps up your income with low start-up costs, then take a look at these 9 profitable online business ideas you can start in 2023.
Here you'll find some ideas for self-employment that will set you on the path to being your own boss. Starting a business can take a lot of effort and none of these ideas are get-rich-quick schemes. But, done correctly, they can be extremely lucrative ways to make money where you'll be financially rewarded for your hard work.
Friendly Disclaimer: Whilst I am an accountant, I'm not your accountant. The information in this article is legally correct but it is for guidance and information purposes only. Everyone's situation is different and unique so you'll need to use your own best judgement when applying the advice that I give to your situation. If you are unsure or have a question be sure to contact a qualified professional because mistakes can result in penalties.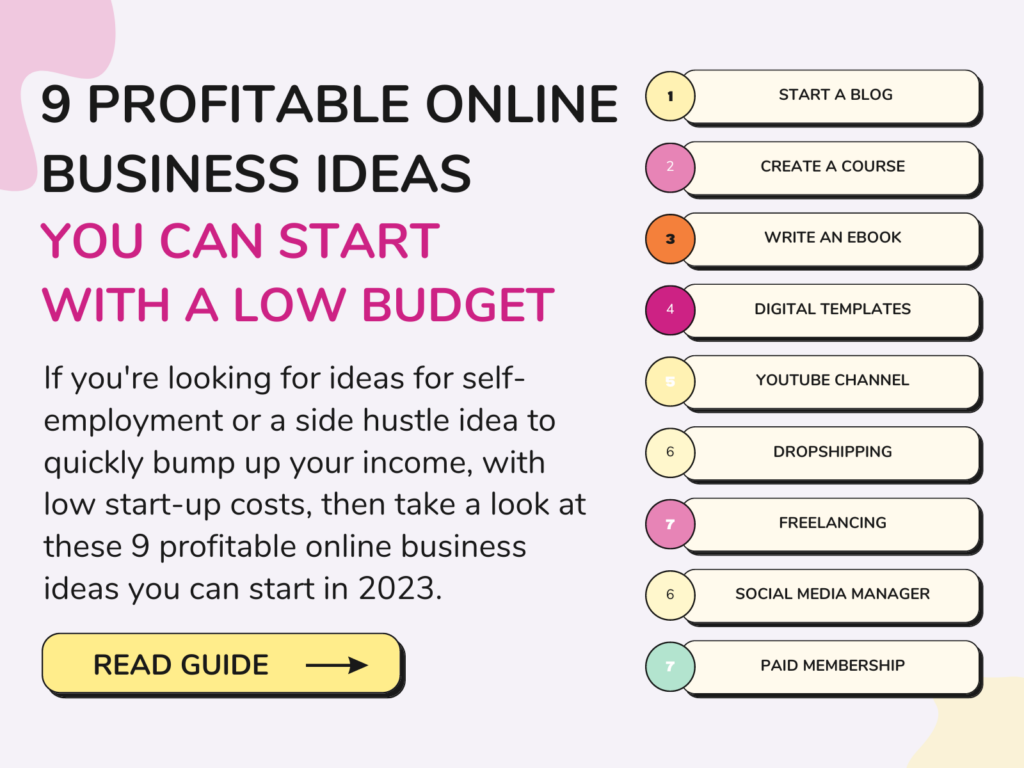 9 Profitable Online Business Ideas You Can Start With a Low Budget
This blog post contains affiliate links to products that I use myself.
1. Start a Blog
Blogs have become more than just a person sharing their personal life or thoughts. They've become a way for individuals and companies to educate others by creating a website that is an informational hub on a specific topic.
If you have passion or knowledge about a certain topic and want to share it with the world, then blogging could be for you. You'll find successful bloggers in the cooking, tech or finance world to name just a few.
The key to building a profitable blog is finding an audience which is usually achieved through SEO or social media and monetising users that come onto your website through one or more income streams.
How You Make Money Blogging
There are various ways to make money from blogging. Which one works best for you may depend on the niche you're in and what you feel passionate about doing. Here are the most common revenue streams for bloggers:
Sponsored Posts
Affiliate Revenue
Display Ads
Digital Products
How to Get Started Blogging
Choose a niche
Choose revenue stream(s)
Create categories for your topic
Set up your social media accounts
Choose a name
Buy a domain ($)
Get web hosting ($)
Create a logo and branding (you'll find free templates on Canva)
Set up a WordPress website with a theme and plugins ($)
Add your disclosures and privacy policy
Launch your blog and start sharing it with the world
2. Create a Course
Estimated Start-Up Costs: $39 per month on Teachable (varies with other platforms)
Average Income: $66,000 per year
YouTube and Google are full of how-to guides and tutorials but it can be overwhelming and time-consuming for people to work their way through. If you have a skill or knowledge in a specific area putting together a course can help speed up the learning process and guide your students through basic principles and onto more advanced areas.
Once recorded, you can market your course, selling it over and over again. So if you're searching for a self-employed business idea, course creation has the potential to generate income very quickly as well as put you on the path to becoming your own boss.
How to Get Started with Courses
Choose a subject
Choose a course name
Create a logo and branding (you'll find free templates on Canva)
Sign up for a course platform like Teachable ($)
Record your course
Create your sales page
Set up a payment gateway like Stripe or Paypal to collect payments from students
Launch your course and start selling
3. Write an eBook
Estimated Start-Up Costs: £0
Average Income: £81,000
eBooks have grown in popularity in recent years with 2021 sales reaching $1.1 billion in the US. An eBook is a digital book or guide that can be downloaded on a specific platform like Amazon or as a PDF to be read on a phone, tablet or laptop.
Writing an eBook can be done in your spare time for free or around your 9-5 job – all you need is a topic, a laptop and a document editor like Google Docs. Once you've written your eBook it can be sold over and over again, generating income and helping you to build an engaged audience interested in your products and knowledge.
An eBook not only lets you provide your reader with useful information but it lets you connect with your reader and lets you build your brand as well as an audience interested in what you have to offer. All this gives you the potential to build out new revenue streams, such as a course, which you can sell to your existing customers, making an eBook a great self-employed business idea.
How to Write and Sell an eBook
Pick a topic
Define the purpose of your ebook
Outline your chapters
Start writing using Word or Google Docs
Create a logo, branding and cover (you'll find free templates on Canva)
Decide how you'll distribute your eBook for example on amazon kindle, apple books or Reedsy
Set up a digital delivery plugin if you want to sell on your website or use a platform like SendOwl
Publish your eBook and start promoting it
4. Sell Digital Templates
Digital templates are products sold online as an instant download – there's no physical product dispatched to the customer. Selling digital products is a great idea for self-employment because there are no product costs so expect high returns for a low investment. You can also sell an unlimited amount without the need for storage costs and shipping, although you will face charges for accepting online payments and fees on platforms like Etsy.
Here are some popular digital products (you can sell more than one):
Planners
Budgeting templates
Digital art
Calendars
Social media templates
Logos
Fonts
Branding kits
Calculators
Once you've created your digital product, you'll need a place to sell your template. Options for doing this includes:
On a platform like Etsy or Creativemarket.com
Through a sales page on your website (you'll need a payment processing plugin or third party like SendOwl)
Setting up an e-commerce site using Shopify
5. Start a YouTube Channel
With billions of hours of video content being streamed every day and YouTube quickly becoming a search engine itself for people looking for how-to guides and tutorials, making money on one of the largest platforms in the world could be a starting point for your self-employed journey.
Monetising on YouTube can be a slow burner when compared to other online business ideas like writing an eBook. To start earning money you'll need you're going to need 1,000 subscribers and 4,000 watched hours but no one can deny the profitability that comes with building your own online audience. But getting started on YouTube is easy and free if you use your phone or laptop camera (you can upgrade your equipment down the line).
There are successful YouTube channels around a wide range of topics:
Gaming
Finance
Budgeting
Business
Social media tips
Product reviews
Music
Makeup
Exercise
6. Dropshipping
Drop shipping is an e-commerce online business idea that's growing in popularity in 2023. Dropshipping means you set up a website and sell products that you don't stock yourself. Instead, the products you sell are housed with a third-party supplier that you purchase once you have an order and they ship direct to your customer. This makes it a really easy self-employed idea because you just need a laptop and you don't incur any significant costs until your customer has bought from you.
To get started with dropshipping you'll need to research product ideas that you can sell, find a dropshipping supplier and set up a website to take orders on a platform like Shopify.
7. Become a Freelancer
Estimated Start-Up Costs: £0
Average Income: £65,093
Freelancing is a type of self-employment business, where individuals work for themselves on ad-hoc, short term or long-term projects for usually one or more clients at a time. They can work from home or at clients' premises, depending on the nature of their work and arrangements with their clients. Popular freelancing jobs include:
Bookkeeping
Marketing
Social media
Virtual assistants
Software developers
Graphic design
Depending on your skills, freelancing is a quick and easy way to get started working for yourself although you may need to invest in tools or software depending on your services.
Freelancing can be done in addition to having a 9-5 job and you can find work through word of mouth, marketing yourself on social media or platforms like Fiverr.
How to Become a Freelancer
Pick a service
Decide how you'll find clients and deliver work
Set your hourly rate and service packages
Build your portfolio
Market your services
8. Social Media Management
If you love spending time on social media platforms like TikTok and Instagram, creating content and engaging then why not start an online business where you charge for what you love doing and help businesses grow their social media profiles?
As a social media manager, you'll take some or all responsibility for growing an individual's or a business's social media profile. You may be asked to create content, images, captions and report back on key metrics like shares, saves and reach. You'll take charge of analysing statistics to understand what has performed well and converted to sales.
Typical services offered by social media managers include:
Monthly retainers
Content creation
Engagement packages
Coaching sessions
Profile reviews
Start-up costs for becoming a self-employed social media manager are low if you have a laptop and by signing up for a scheduling software like Later.com, you can schedule and manage posts for your clients and use platform statistics to gain a deeper insight into how posts are performing.
9. Start a Paid Membership Community
Paid membership communities can be an extremely profitable online business idea. People pay a fee to be part of a private group in a niche area that interests them and to access any additional benefits of being part of that group such as training videos, lives and downloads. Membership communities are a wonderful place where like-minded people are bought together and connections are formed.
Setting up a paid membership community on Facebook is free and although they can take a while to nurture and grow in numbers there can be a real snowball effect once they take off. You also have the opportunity to sell products in addition to the membership fee, like an eBook, to your engaged audience.
How to Start a Paid Community Membership
Pick a niche
Choose a platform to host
Invite your seed members either for free or at a reduced rate
Start interacting and engaging
Attract new members
Found Your Self-Employed Business Idea?
If you've been inspired by this list of online business ideas, you'll need to make things official by setting up as a business. In my step-by-step guide to becoming self-employed, I'll take you through all the important steps you need to put all the right foundations in place for your online business. From registration and taxes to dates and deadline, it's all included in this free 8 part series.