Becoming self-employed means that self assessment will play a major part in your life. Whether you like it or not! But I know you may be feeling overwhelmed just by the sheer volume of information out there, making it difficult to know which regulations actually apply to you.
I created this guide to give you an overview of all the things that really matter when it comes to self assessment including registration, returns and tax payments. I'll also share some other useful resources to help you get your head around the whole UK tax system.
[This is part of the Understanding Self Employment Series]
Table of Contents
I've updated this guide on 12 December 2020 for changes in the latest legislation
1. What is Self Assessment?
Self assessment is the process created by HMRC that allows anyone who receives untaxed income to declare it to the government and pay any tax due.
For people in the UK that are employed by someone, their employer will take responsibility for working out their tax and national insurance, deducting it and paying it to HMRC on their behalf. They don't really ever have to deal with HMRC, unless there are changes to their tax codes. Others though get paid money that is known as untaxed income, that includes those of us that are self-employed.
When you're self employed, everything you get paid has no tax deducted from it and it's your responsibility to tell HMRC about it, work out how much tax you owe and pay it over. The way you do this is by registering for self assessment.
Self-assessment is an annual declaration of all your income, along with deductions you wish to claim such as expenses, tax allowances and reliefs using a tax return form, as well as paying any tax you owe to HMRC.
2. What is a Self Assessment Tax Return?
A tax return is a form (also known by HMRC as an SA100) issued by HMRC made up of different sections – the main section and supplementary sections. Each supplementary section covers a separate form of income or piece of information, but you'll only need to fill in the sections that are relevant to you and ignore anything that isn't relevant.
One tax return relates to one tax year telling HMRC everything they need to know about how you earned your income.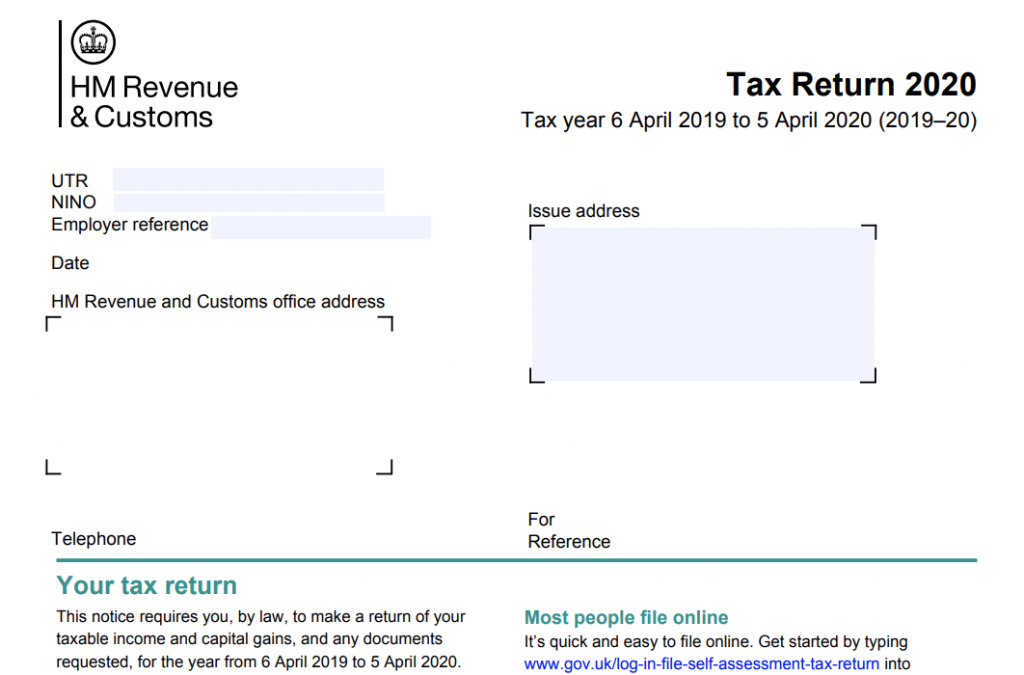 2.1 Main Section
This section contains details of your personal information such as your:
Full name
Address
Date of birth
Within the main section of the self-assessment tax return, you'll also need to declare your income from:
2.2 Supplementary Sections
The supplementary sections available are specifically designed for different forms of income and they are:
You only need to fill out and include the supplementary sections relevant to you and when the time comes to fill in your tax return, you'll only be shown the supplementary pages you need to complete.
2.3 Where to Find Your Tax Return
You'll find your tax return by going online and logging into your .GOV account. You'll have set this account up when you were setting up your business and registered as self-employed.
There is a paper version, but that is only available for people in very specific circumstances and needs to be filed slightly earlier by 31 October instead of 31 January. Filing online is better anyway because not only do you get more time to submit your return, it also means that HMRC will calculate your tax automatically for you.
2.4 When Is Your Tax Return Due?
The tax return deadline is the 31 January each year, that means your return for the tax year 2019/2020 (6th April 2019 to 5th April 2020) is due 31 January 2021, along with a payment for tax.
3. How is Self Assessment Tax Worked Out?
Your tax is calculated from the numbers you enter when you fill in your tax return. The types of tax you pay depends on the type of income you have received for example:
If you are self-employed you'll pay income tax as well as class 2 and class 4 national insurance on your business profits;
If you received dividends you'll pay dividend tax;
If you are a landlord you'll pay income tax on your rental income after deducting property expenses.
Read this guide for help filling in your tax return online
4. Paying Self Assessment
You must pay your tax and national insurance twice a year on 31st January (along with your tax return) and on 31st July, a contribution towards your following years tax bill, known as a payment on account. You can pay your tax in the following ways;
Bank transfer
Direct Debit
Debit Card
Through your tax code if you're employed
5. What Happens if You Can't Pay Your Self Assessment Tax Bill?
It can be terrifying if you cannot pay your tax bill. HMRC takes non-payment really seriously and has the power to make you bankrupt if needs be and add penalties which escalate.
In the event that you cannot pay your tax bill on time, make sure you have an acceptable reason. Then contact HMRC either online or by phone and request a suitable plan.
6. Making Tax Digital
Over the recent years, the government has been taking steps towards digitising the entire self assessment system, called making tax digital. In simple terms, that means anyone who is registered for self assessment must use a digital bookkeeping system to send their information to HMRC on a quarterly basis.
Making tax digital was launched in April 2018 with VAT registered business being the first required to switch over to a digital bookkeeping system to calculate their VAT and submit their returns. It will be introduced for sole traders and the self-employed from April 2022. MTD promises to make it easier for sole traders to help them to stay on top of paying taxes with quarterly payments to HMRC. But it also signals the end of the annual self-assessment tax return form due by 31 January each year.
6. FAQs
Can I Do My Self Assessment Online?
Yes you can and, in fact, its the preferred option by HMRC with paper tax returns only accepted in exceptional circumstances.
How Do I Know I Need to Do a Self Assessment?
It's up to you to work out whether you need to do a self assessment tax return, HMRC won't tell you. To figure out whether you need to register for self assessment start by checking whether you've received untaxed income that you need to let the tax-man know about.
Can the Tax-Man See My Bank Account?
The tax-man doesn't look at your bank accounts. However if they have a suspicions about anyone not declaring income they do have the right to request information from the bank without seeking permission from the account holder.
How Much Can I Earn Before Registering for Self Assessment?
If you are self-employed you can earn up to £1,000 before registering for self assessment. This is known as the trading income allowance and applies to your first £1,000 in income, not profit.
Other types of income may have to be declared, regardless of their amount and even though there may be tax-free amounts you can earn such as capital gains and dividends. So if you are in receipt of these you'll need to register with HMRC to declare them to the tax-man.
How Do I Complete a Tax Return for Someone Who Has Died?
You must let HMRC know that someone has died as soon as possible and notify them of the name of the person dealing with their tax affairs. HMRC will then notify you if you need to fill in a self assessment tax return on behalf of the person who has passed away.
You can contact HMRC by phone on 0300 200 3300 and you'll need at least one of the following details of the person who has died:
– National Insurance number
– Unique Taxpayer Reference (UTR)
– Full address
– Last employer or pension provider's name and address

8. Key Takeaways
Self assessment is the system put in place to HMRC letting people in the UK report untaxed income to them such as self-employment income and capital gains;
HMRC require a tax return to be filled out each year, by the 31 January, which is a form made up of different sections each one designed to cover a different type of income;
Your tax will automatically be calculated by HMRC based on the information you enter, so you'll know how much you need to pay;
Making tax digital is scheduled to begin in April 2022 meaning this form will change for annual submission to quarterly, along with tax payments.
[This is part of the Understanding Self Employment Series]