This post may contain affiliate links. This means I might receive a small commission, at no additional cost to you, if you click and decide to make a purchase. Thank you for supporting my blog.
The HMRC Marriage Allowance is a tax perk that allows one partner to transfer up to 10% of their unused personal allowance to another.
This means that one person can benefit from some additional tax-free earnings.
It can be particularly useful if you are newly self-employed and are still building up your income
Who Can Claim the HMRC Marriage Allowance
To claim the HMRC marriage allowance you and your partner must meet the following three pieces of criteria:
Be married or in a civil partnership;
One partner does not earn anything or earns below the personal allowance (£12,500 for 2019/2020, £11,850 for 2018/2019);
The other partner pays tax at the basic rate of 20%.
How Does HMRC Marriage Allowance Work
Here's an example of how the HMRC marriage allowance works when you are self-employed.
Mary went self-employed in the tax year 2018/2019 and the profits from her business were £5,000 as she was in the start-up phase. Her partner Jo was in full-time employment and pays tax at the basic rate.
Under the rules of HMRC marriage allowance, Mary can transfer up to 10% of her unused personal allowance to Jo of £1,185 for 2018/2019 (£11,850 x 10%).
By transferring this Jo's personal allowance increases to £13,035 (£11,850 + £1,185).
This equates to a tax saving of £237 at 20%.
Claiming Backdated HMRC Marriage Allowance
If you are self-employed and were eligible for the HMRC marriage allowance in 2015/2016 when it was introduced, then you can make a backdated claim for up to four years.
This means you and your partner could benefit from a tax saving of £899.
| | | | |
| --- | --- | --- | --- |
| Tax Year | Personal Allowance | 10% Transfer | Maximum Tax Saving |
| 2019/2020 | £12,500 | £1,250 | £250 |
| 2018/2019 | £11,850 | £1,185 | £237 |
| 2017/2018 | £11,500 | £1,150 | £230 |
| 2016/2017 | £11,000 | £1,100 | £220 |
| 2015/2016 | £10,600 | £1,060 | £212 |
How to Claim the HMRC Marriage Allowance If You're Employed
If you are employed in a job, then you can register online for marriage allowance HERE.
Alternatively, you can call HMRC on 0300 200 3300 for help.
Your employer will be notified by HMRC to change your partners' tax code to reflect the transfer of personal allowance.
It can take a couple of months to take effect, so don't delay in getting the process underway.
How to Claim the HMRC Marriage Allowance When You're Self Employed
When you are self-employed you need to apply for marriage allowance on your self-assessment tax return form.
You will need to add details of your partner, including their national insurance number.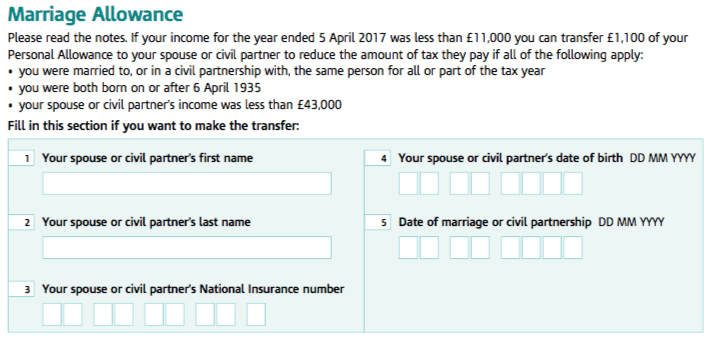 If your partner is employed then an adjustment will be made to their tax code by their employer.
If both you and your partner are self-employed, then the recipient will see a reduction in their self-assessment tax bill when they file their tax return.
Updated 10 April 2019