This post may contain affiliate links. This means I might receive a small commission, at no additional cost to you, if you click and decide to make a purchase. Thank you for supporting my blog.
Even though Making Tax Digital changed how VAT registered businesses submit their VAT returns, it has not affected the VAT Return Dates for 2019 and payment deadlines.
Here's an overview of all the dates and deadlines you need to know about, whether you submit quarterly VAT returns, monthly or annually.
VAT Return Due Dates 2019
VAT return dates vary from business to business, but they always fall at the end of a calendar month.
When a business becomes VAT registered they have a choice of which month they would like to report on for VAT.
The date can be selected as part of the registration process. Alternatively, a VAT return date can be changed (more on that later).
Businesses commonly follow the advice of their accountants when they VAT register choosing a VAT return date that matches their financial year.
That way it saves time at year-end reconciling VAT.
The VAT return date a business chooses also depends on the VAT scheme they have registered for.
How to Check Your VAT Return Date 2019
Since VAT return due date differs between businesses, you'll need to check what your own VAT return deadlines are.
You can check a VAT return date by logging into your HMRC Government Gateway Account.
Read More: Where to Find Your HMRC User ID and Password
Once logged into your HMRC Government Gateway Account you'll be presented with a summary dashboard for your VAT account and next options.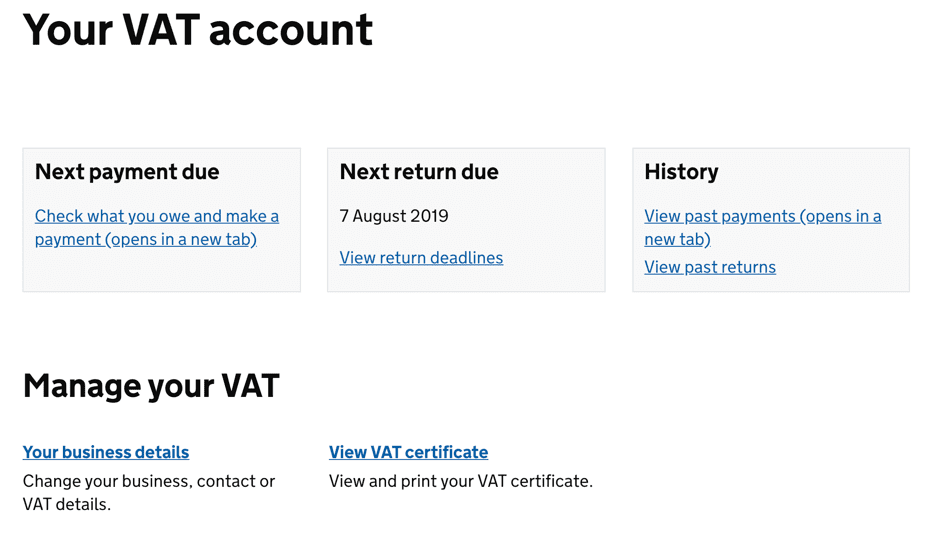 You'll see your next VAT return deadline on the dashboard, but if you click on "View Return Deadlines" you'll be able to see what period your next return is for.
Quarterly VAT Return Deadline
Quarterly VAT return dates are due for submission 1 month and 7 days after the of a VAT quarter.
For example, a VAT return for the quarter-end June 2019 would be due 7 August 2019.
Monthly VAT Return Deadline
Monthly VAT return dates are also due for submission 1 month and 7 days after the of a VAT month.
For example, a VAT return for the month-end August 2019 would be due 7 October 2019.
Annual VAT Return Deadline
The VAT Annual Accounting Scheme allows businesses to file one VAT return each year.
It helps ease administration and businesses to better manage cash flow.
The VAT Return Deadline for annual VAT is 2 months after the end of your VAT period.
VAT Payment Dates
For monthly and quarterly VAT returns, the VAT payment date is the same as the filing deadline.
That means both the VAT return and VAT payment are due 1 month and 7 days after the end of the VAT period.
So you can submit your VAT return on the 7th.
With Annual Accounting, there are monthly VAT payment deadlines, which will be set out by HMRC on joining the scheme.
A final payment is then due 2 months after the end of the VAT period, along with the VAT return to balance up any underpayments from the monthly instalments.
In summary, the HMRC VAT Return Payment Deadlines for the Annual Accounting Scheme work like this:
| | |
| --- | --- |
| Payment | VAT Payment Deadline |
| Monthly | Due at the end of months 4, 5, 6, 7, 8, 9, 10, 11 and 12 |
| Quarterly | Due at the end of months 4, 7 and 10 |
| Final payment | Within 2 months of month 12 |
HMRC also has a handy tool that lets you double-check your VAT payment deadline.
Try the HMRC VAT Payment Deadline Tool
How to Pay Your VAT
It is your responsibility to make sure that your VAT payment reaches HMRC by the payment deadline.
There are a number of ways HMRC will accept your VAT payment.
Immediate Payments can be made by:
Online Banking;
Telephone banking;
CHAPS.
Here are the HMRC VAT Bank Account Details to make your payment:
| Sort code | Account number | Account name |
| --- | --- | --- |
| 08 32 00 | 11963155 | HMRC VAT |
Remember to use your 9 Digit VAT Number as your payment reference so HMRC can allocate it correctly.
Other ways you can pay are below, but these typically take up to 3 days to clear, so you need to make sure you leave enough time for the money to reach HMRC for the VAT deadline:
Direct debit (but you must have your direct debit set up 7 days before your VAT payment deadline);
Debit card;
At your bank or building society.
How to Change Your VAT Date
You can change your VAT return submission date either online or by post. Typical reasons businesses choose to make a change is;
To match their financial year-end;
For a VAT deadline that matches business cashflow;
To ease business administration.
A VAT return date cannot be changed once the return has been issued online.
How to Change Your VAT Due Date Online
You can change a VAT return date by logging into your HMRC Government Gateway Account.
Once logged in you need to select the option "Your Business Details" from the dashboard.
Then you'll need to choose the option to "Change" VAT Return Dates.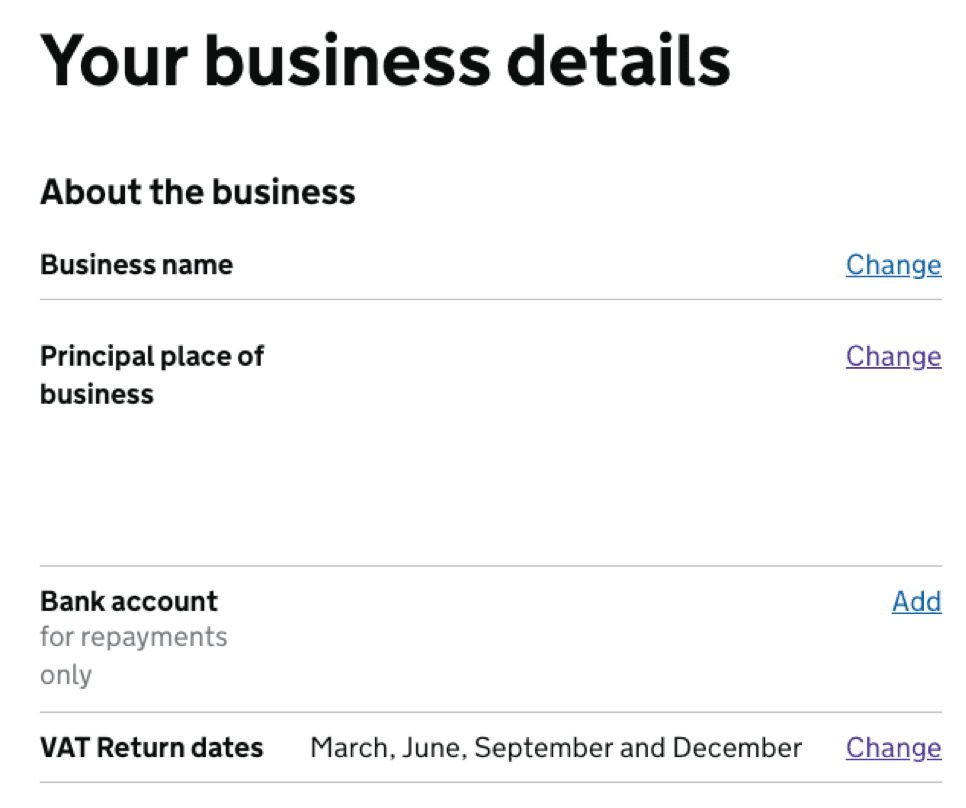 HMRC will then present you with the quarterly and monthly VAT return deadline options available to you.
How to Change Your VAT Submission Date by Post
You can change your VAT return date by completing a form VAT484 and posting it to HMRC.
What is an HMRC VAT484 Form?
This is a paper form that you need to use if you want to notify HMRC of changes to certain details of a VAT registered business including:
Address
Bank details
VAT return dates
How To Complete the Form
The form can be downloaded online and then printed off. It'll need to be signed by a registered person of the business. For example: a Director or sole proprietor if you are self-employed.
Where to send your VAT484 Form
Once you have completed your form, you'll need to post the form back to HMRC at:
Grimsby National Registration Service,
HM Revenue and Customs,
Imperial House,
77 Victoria Street,
Grimsby
DN31 1DB
What Happens If You Miss Your HMRC VAT Deadlines?
If you miss your VAT Return Deadlines for submitting your return and/or making your VAT payment, then HMRC considers you in default.
When you are in default there are two types of penalties HMRC can charge you:
Surcharges and;
Penalties.
Surcharges are generally levied at a fixed percentage based on business turnover for failing for VAT returns that are filed late or on late VAT payments.
Penalties are charged on errors, mistakes and inaccuracies.
I've put together a complete guide to Penalties and Surcharges on VAT Late Payments where I go through exactly how HMRC calculates penalties.
How to File Your UK VAT Return
Changes brought in from April 2020 mean that the way you have to file your VAT returns have changed.
This is known as Making Tax Digital and requires all businesses with a turnover of over £85,000 to:
Sign Up for Making Tax Digital;
Maintain their books digitally;
File their VAT returns using an HMRC Approved Software.
Even though your VAT quarter dates are unaffected, you'll need to check when your first Making Tax Digital Return is due. This is because the way you file your VAT return will change.
Previously many people opted to file their VAT returns directly on the HMRC website.
This has been phased out.
VAT returns must be sent via a bookkeeping software.
Check When Your First Making Tax Digital VAT Return is Due
How to Sign Up for Making Tax Digital
You'll need to sign up separately for Making Tax Digital on the HMRC website.
You'll need your Government Gateway user ID and password to hand, so you can sign in to complete your registration.
Sign Up for Making Tax Digital
Tips to Avoid Submitting Your VAT Return Late
Check that you are using a Making Tax Digital Approved Bookkeeping Software, like Quickbooks;
Make a note of your VAT return deadlines in your diary;
Stay organised using an HMRC Approved Software;
Don't leave it until the last minute, give yourself plenty of time to complete your VAT return
Updated 22 October 2019