The term fixed asset is an accounting concept.
It is a classification of certain things that a business buys and impacts:
The bookkeeping entries that are required;
Business profits;
How a business gets tax relief on it;
What is a Fixed Asset?
A fixed asset is something you buy for your business that generally is kept for more than a year and is used for running the business.
For example, a self-employed gardener who buys a lawn mower will use it for a couple of years to earn money in his business.
Examples of Fixed Assets
Here are some common purchases made by small business owners that often end up classified as a fixed asset:
Computers
Laptops;
Printers;
Office furniture;
Equipment and machinery;
Buildings;
Office premises
Vehicles;
Office Improvements.
Example 1
A business takes on a new employee and need to buy a new laptop. The laptop will last more than one year so is classified as a fixed asset.
Example 2
A photographer sets up a new business buying a new camera and lighting equipment. This is essential to generate income. The new camera and equipment are all fixed assets.
Example 3
A distribution business 10,000 units of stock from a supplier as well as storage for it to be installed in its warehouse. The 10,000 units of stock are not a fixed asset since they will be sold onto customers. The new storage is a fixed asset since the business will use this for years to come.
How to Work out the Cost of a Fixed Asset
The cost of a fixed asset is its purchase price and anything paid to get the asset delivered, installed and usable.
In Example 3 above the cost of the storage would be:
The cost of the storage plus;
Any installation costs.
How Fixed Assets are Recorded
Fixed assets are recorded on the balance sheet in their own section. That ways it easy to see how much a business owns in terms of assets.
Fixed assets on the balance sheet are generally accompanied by a note in the accounts to give more detail.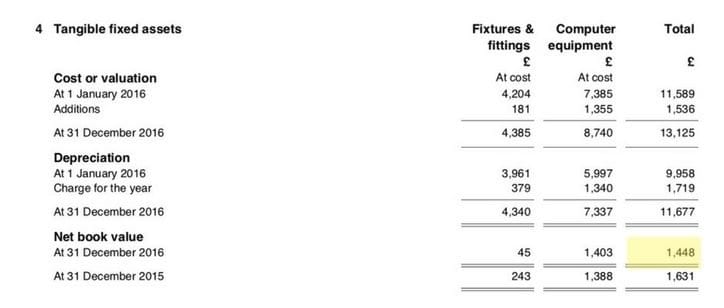 Depreciation of Fixed Assets
To reflect the use and eventual depletion in the value of a fixed asset, an entry needs to be made for depreciation.
Depreciation is an accounting entry to write off the cost of a fixed asset at a set rate over a fixed period of time.
Fixed Asset Double Entries
Here are the bookkeeping double entries you'll need when you buy and depreciate a fixed asset.
On Initial Purchase:
Dr Fixed Assets

Cr Accounts payable
If you are VAT registered, you must record your fixed asset net of VAT. You'll be able to claim back all the VAT in one go.
On Depreciation:
Dr Depreciation (profit and loss account)

Cr Fixed asset depreciation (Balance sheet)
Read More: Guide to Depreciation for UK Small Business Owners
Updated 9 April 2019