Opening a business bank account if you're self-employed can feel like a bit of a headache.
When you're setting up as your own boss I know there is so much to do – there are 35 steps to going self-employed in my checklist alone! So unsurprisingly setting up a business bank account (which is step 23) often takes a bit of a back seat!
Despite the extra admin, setting up a self-employed bank account is something I strongly recommend you do just for the reason it will simplify your business administration.
With over 4 million people working for themselves in the UK, business bank accounts have become big business.
And that means that there a vast number of options out there for self-employed bank accounts, so it can be confusing working out which one to pick.
If you are looking to find out more about the account opening process and the quickest bank account to open, then this post is for you.
I'll tell you a little about the different UK business bank accounts available, explain the account opening process as well as share some of my self-employed bank account recommendations.
What is a Business Bank Accou
nt?
A business bank account works much like your personal bank account except that the money that goes in and out only relate to your business.
UK self-employed bank accounts often attract monthly charges, whereas your personal account may very well be free.
When it comes to business accounts, there may also be additional charges applied to different types of payments, sending money abroad or even paying cash in.
Business banking has become quite a competitive market with some banks offering free accounts for 6, 12 or even 18 months.
Or others charging a fee but offering services like free transactions, business advice or free bookkeeping software.
Whatever bank you choose, you should probably expect to pay some kind of charges when you open a business account.
Do You Need a Business Bank Account if You're Self-Employed?
In my opinion, you do need a business bank account. And even though there is no legal obligation for sole traders to open a business account, it is recommended by HMRC.
If you have a Limited Company you are legally required to open a business bank account.
So if there is no legal reason to do it, why then do people go through the hassle of opening a self-employed business account and the cost of operating it?
The Benefits of a Business Account
There are quite a few reasons self-employed sole traders choose to do it.
Here are some reasons why I recommend anyone who is self-employed sets up a business account:
1. Easy Record-Keeping
Why make your bookkeeping harder and more time-consuming than it needs to be?
Opening up a self-employed bank account will make identifying all your business transactions quicker and easier, without the clutter of all your personal spending.
Some business bank accounts, like Revolut, integrate with bookkeeping software like Quickbooks.
That means all your day-to-day bank transactions are pulled into your bookkeeping system, saving you the hassle of typing each item in line by line.
A real time saver.
2. Better Manage Your Business Cashflow
The reasons behind the peaks and troughs in cash are unique to each business.
If your personal bank transactions intermingle with business transactions, it will be harder to understand what is going on with your business, where you may be wasting money and who has or hasn't paid you.
3. Stop You Dipping Into Tax Money
It can be tempting to dip into what looks like a healthy bank account when you are out and about.
When you are self-employed (sole trader) everything you are paid is untaxed.
That means you need to take responsibility for setting money aside for your tax bills in January and July.
4. It's Professional
If you act like a business, your clients will treat you like a business.
Asking your clients to pay into a dedicated bank account will make you look credible.
5. Pay the Right Amount of Tax
When there are personal and business transactions in the same bank account, you risk expenses getting incorrectly allocated as drawings meaning you end up paying too much personal tax.
Conversely, personal expenses could get allocated as business expenses, meaning you incorrectly receive tax relief.
HMRC will take a dim view of this in the event of an investigation, especially as their guidance states you should keep separate business and personal bank accounts.
6. Frozen Bank Accounts
HMRC now have the power to raid or freeze your bank account if they are suspicious of you in any way or if you owe tax.
Imagine if they froze your personal account? The fall out could be huge.
Spread the risk by separating your business and personal finances.
7. Borrowing
Growing businesses commonly need overdraft facilities or loans for setup and growth.
Whomever you approach, they will ask to see your business bank account. If you present your personal account, not only may it affect your credibility, but it will also make your applications a lot trickier.
8. Privacy
Do you really want your accountant, lender or bookkeeper to see all your personal transactions and what you spend your money on?
By using a separate account, you only need to show them exactly what they need.
9. They're Cheap
The business banking market has moved on considerably in the last 3 years. And there are more options available now than ever.
More competition means there are better deals to be had, with many offering free accounts, no transaction fees or other financial rewards for choosing them.
You can get a lot of benefit for a small monthly fee.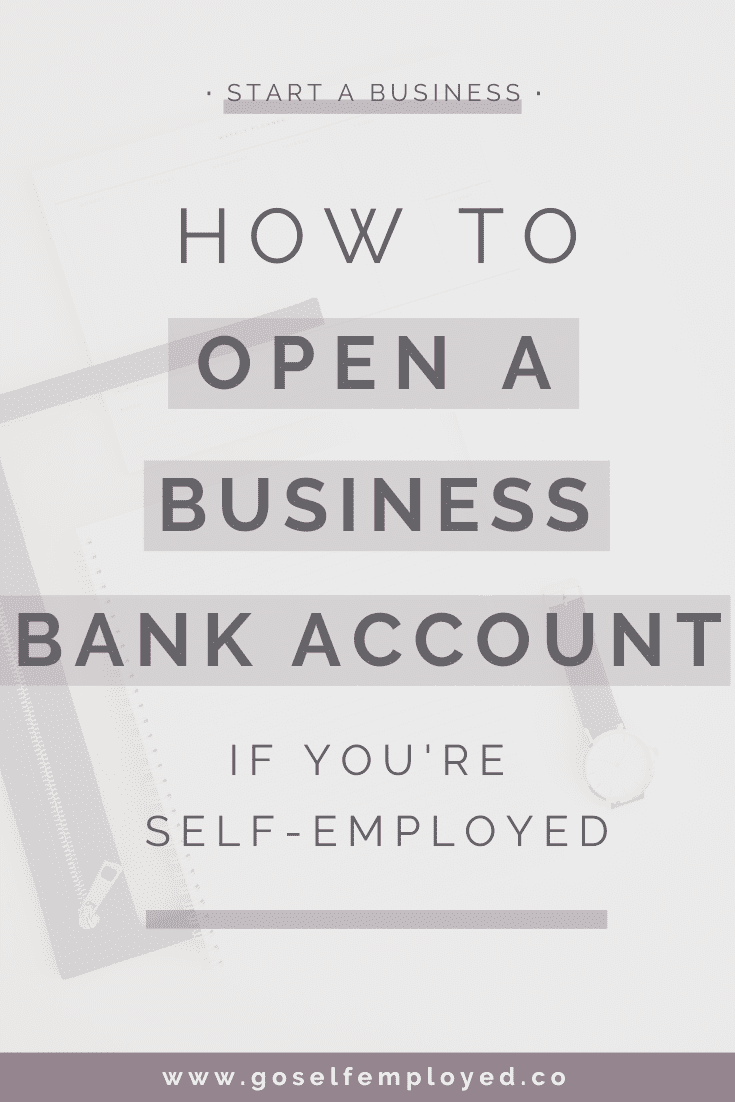 How to Choose a UK Business Bank Account
The promise of free banking, easy opening or low-cost charges can be tempting.
But before you set up a self-employed bank account, take some time to look beyond all the promises. Make sure you know exactly what you'll be charged once all the offers have come to an end.
Here are some things you should think about:
What are the monthly charges once free banking has expired?
Many accounts offer free accounts for 6, 12 or even 18 months. But make sure you know what the charges are once this free period has finished.
You may find the charges are so high that they outweigh the benefit of any free period.
Switching business bank accounts can be time-consuming, especially if you have to tell customers about changes in your bank details. You may end up needing two business accounts at the same time, while you switch banks.
Do you need to make & receive international payments?
For many banks, this attracts charges. If you need to make regular international payments, check the charges. They can easily rack up.
Do you need to deposit cheques from customers?
If you have customers that pay you by cheque it will make sense to check there is a physical branch near you so you can easily make deposits or any other counter transactions.
Do you need to withdraw cash for your account?
With some accounts, withdrawing cash can also attract charges.
Is the mobile banking app user-friendly?
Different banks offer different functionalities via their banking apps. Whichever account you choose, make sure the app will do all the main things you need on a day-to-day basis to make your life easier.
Do you need Business borrowing or overdraft?
Some banks are geared more towards transactional banking rather than offering lending facilities.
If you feel that you may want to look at lending in the future then check what is on offer.
Whichever bank you choose make sure that you are 100% clear on the charges you'll pay on the features you are going to use the most.
How to Set Up a UK Business Bank Account
There are two main ways you can set up a business account:
Go to a high street bank or;
Go online.
Here's what to expect during the business account opening process and a little more about what you need.
What You Need to Open a Business Bank Account
Regardless of whether you go online or into a branch, you will need to provide certain information so that the bank knows who you are.
This is to do with money laundering requirements or what the bank called KYC 'Know Your Customer' Checks.
Some high street banks allow you to apply online, but will still require you to go in branch to complete the sign-up process as part of KYC.
Setting up a business bank account involves paperwork so it will help to be prepared.
Here's some of the information you should have ready:
Proof of your identity with a document such as a passport or driving licence.
Proof of your address with something like a driving licence, recent bank statement or mortgage statement
Details of your business, its trading name and address
A brief description of what your business does, expected turnover and an idea of money coming in/going out
Your own personal details such as name, address, phone number, date of birth and residential status.
Popular Business Bank Accounts
The quickest and easiest way to open a business account is to go online. The most popular UK options at the moment are:
Revolut
Counting Up
Tide
Coconut
You can read my overview of each one in this post about Online UK Business Bank Accounts
Who Offers a Free Business Bank Account?
Offers change, but as of today the free business bank accounts that I am aware of are:
FAQs
Is it Illegal to use a personal bank account for business?
No, it is not illegal.
You don't have to have a business account and choose to use your personal bank account instead.
That's because there is no legal requirement to use a separate business account. But it is recommended to use separate accounts by HMRC and it does make tracking your finances easier.
If you have a Limited Company then you are legally required to open a separate bank account.
Can HMRC Check Personal Bank Accounts?
Even if you have set up a business account HMRC still have the right to check your personal bank account.
They may do this if they believe you are not declaring all your income on your tax return and they want to check for omissions.
How do I transfer money from my personal account to my business account?
If you need to transfer money from your personal account to your business account, then you can simply do a normal transfer.
Just make sure you record the transfer when you do your bookkeeping to show the money you have transferred either as a loan (if you intend to repay yourself) or against your drawings (so you reduce the amount you have taken out of your business).