a
Recent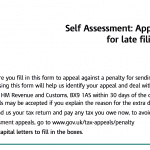 17th July 2019
You might be able to appeal an HMRC self-assessment penalty to give yourself time to pay it or get it reduced. Here's a step-by-step guide to appealing an assessment.
5th July 2019
Go from confused to confident with this comprehensive "go-to" list of all the common tax terms you'll come across when you go self-employed.
3rd July 2019
Reclaiming all the VAT you are entitled to will reduce your VAT bill or even create a VAT repayment. Keeping the right records is essential to support any claim you make.
2nd July 2019
Claiming for your business mileage against your taxes reduces your tax bill. Here's a business mileage tracker to help you, along with some guidance on how to use it.
2nd July 2019
If you are newly VAT registered then this guide will help you understand which expenses you can and can't claim VAT on, how you claim VAT and the evidence you are going to need.
1st July 2019
Reclaiming VAT on cars and fuel can be a complicated area. The answer depends on how you bought the car, what you'll use it for and how you choose to claim for the cost of fuel.