Starting Your Self-Employed Journey?
So, you did it! You followed your dream to start a business. But you never expected it to be so confusing – from how to register as self-employed to filing your first tax return. With so much information out there, how do you know whose advice to trust? If you're a side hustler or sole trader looking for a trusted resource to guide you through how to set up a business, from handling taxes to bookkeeping, you're in the right place.
Go Self Employed
The small business finance blog for UK sole traders, freelancers and Limited Company owners
Worried you've missed a step setting up your business?
I get it! I'm Anita, a Chartered Accountant turned content creator on a mission to simplify money and taxes for the self-employed. (I'm also a Spreadsheet Geek and Money Nerd!)
Because starting your own business shouldn't be so hard. Just because we aren't taught about money at school, it shouldn't prevent us from creating a financially stable life on our own terms.
That's why this website is full of straightforward advice to make topics like taxes, accounting, banking and insurance easy to understand at every point in your self-employed journey. I want to simplify business and tax for UK sole traders and small business owners, like you.
You make money doing what you love; I'll help you look after it.
Ready to go self-employed?
Build solid foundations for your small business with these easy to follow guides
Your small business finance questions, answered
100% jargon-free advice, from which expenses you can claim to what type of insurance you need.
View Popular Resources
Free Business Setup Checklist
Starting your own business? Sign up to receive a free copy of my business set up checklist. All the things you need to know to set up a business correctly.
Kind Words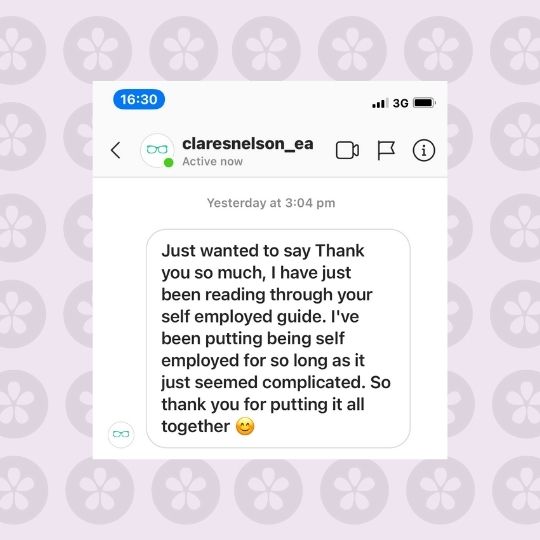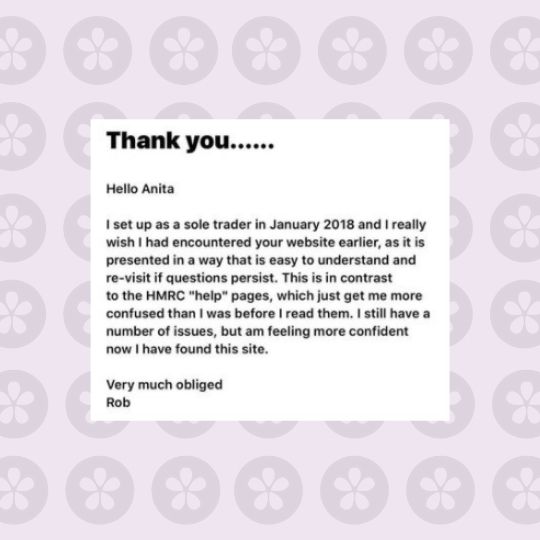 Looking for something specific?
Just use the search bar to find an answer to your question! And don't forget to find me on Instagram, where I share helpful tips and tax reminders, as well as going live for Q&A sessions.