Claiming for clothing as a business expense is a handy way to reduce your tax bill. However, the HMRC clothing rules surrounding what you can and can't expense are very strict. That's because they want to keep things fair across everyone in the self-employed community. If you're wondering about self-employed business expenses, in particular, for clothing expenses, then read on.
In this guide, you'll find out what clothes you can claim on your tax return. Plus, I'll include examples to help you understand how the rules work.
Friendly Disclaimer: Whilst I am an accountant, I'm not your accountant. The information in this article is legally correct but it is for guidance and information purposes only. Everyone's situation is different and unique so you'll need to use your own best judgement when applying the advice that I give to your situation. If you are unsure or have a question be sure to contact a qualified professional because mistakes can result in penalties.
1. Is Clothing Tax Deductible for the Self-Employed?
Clothing, just like any other allowable business expense, can only be claimed on your tax return if they are wholly and necessarily incurred for business purposes only. However, when it comes to clothing, it can be confusing because we all have separate wardrobes for work and personal. This is the case even if that doesn't include business suits. So what are the rules?
1.1 Everyday Clothing are Not a Business Expense
Even if you have to wear a suit or certain type of clothing to work, you cannot claim the cost of these outfits against your taxes. That's because there could be occasions where you could wear those clothes for personal reasons (known as duality of purpose). So, if you work from home and choose to wear casual clothes all day, then you wouldn't be able to claim for these as a business expense on your tax return.
1.2 Branded Clothing are a Business Expense
If you wear clothing that is branded in your business name, then you can claim the cost of these clothes as a business expense.
1.3 Uniforms are a Business Expense
If you need to buy a uniform that is specifically required to do your job, then you can claim the cost of this against your taxes. This refers to people like self-employed beauticians and hairdressers.
1.4 Protective Clothing are a Business Expense
Like uniforms, protective clothing is also an allowable business expense. This applies to people who are self-employed CIS contractors that need things like:
Hard hats;
Steel toe boots;
Goggles.
1.5 Costumes are a Business Expense
If you have to wear a costume as part of your work, then this cost would be tax-deductible. The obvious examples are clowns but it also extends to any other types of entertainers like models and actors.
2. Claiming for Laundry If You're Self Employed
You cannot claim for laundry expenses of your work clothes or uniform on your tax return. That's because it is too difficult to come up with an amount or percentage that could be claimed as an expense that would be fair across everyone who is registered as self-employed. It's also tricky to separate personal and business laundry to make a clear claim for work purposes, with business records.
These rules apply to the self-employed. Different rules apply when it comes to washing your uniform if you are employed in certain jobs, where you may be able to claim a tax rebate.
3. How to Claim for Clothing On Your Tax Return
You'll need to claim the cost of allowable clothing in the self-employment section of your tax return. If your business turnover is less than £85,000 for 2021/2022 you'll have the option to fill in the simplified version of this part of the tax return so only need to enter your total expenses. You'll need to include your clothing claim in the figure you enter alongside your other allowable business expenses.
If your business turnover is more than £85,000 you'll need to enter a breakdown of your expenses in the boxes set out by HMRC and you'll need to include your business clothing in 'other allowable business expenses'.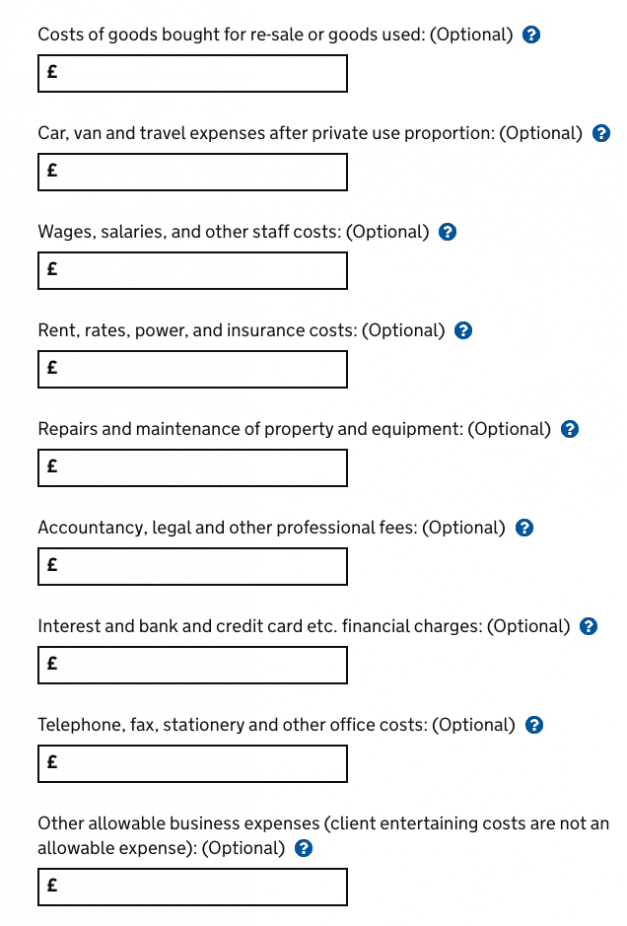 Whatever your business turnover and self-employed business expenses, you should keep a note of what you are claiming for and how you worked it out as part of your business records. This is in case of an HMRC investigation and they ask for evidence of what you are claiming for to check you've paid the right amount of self-employed tax.
When it comes to claiming expenses, always use your judgement when it comes to deciding what you deduct against your taxes. Incorrect claims can result in penalties. And, as always, if you aren't sure, seeks the advice of a professional.
Related: