Trying to find your UTR number? Wondering if your UTR number is still active? Your unique taxpayer reference (UTR) number is a 10 digit number that HMRC issued to you when you registered for UK self-assessment. Read on to find out how to find your UTR number online, by phone or on HMRC correspondence.
Friendly Disclaimer: Whilst I am an accountant, I'm not your accountant. The information in this article is legally correct but it is for guidance and information purposes only. Everyone's situation is different and unique so you'll need to use your own best judgement when applying the advice that I give to your situation. If you are unsure or have a question be sure to contact a qualified professional because mistakes can result in penalties.
How to Find Your HMRC UTR Number Online
UTR stands for Unique Taxpayer Reference. It is a 10 digit tax reference number that HMRC issues to UK individuals who are registered for self-assessment.
The simplest way to find your UTR online is to look in your .GOV tax account. This is the online account you set up when you registered as self-employed. When you log in, you'll be able to see your tax returns, reminders from HMRC and other information like your SA302.
When you are inside your .GOV you'll be able to find your unique taxpayer reference either:
Your UTR number is a highly confidential piece of information so you should never share it unless you're certain it's for the right reasons. For example:
If you are unsure whether your UTR number is valid or you need to check it, then always contact HMRC first on 0300 200 3310.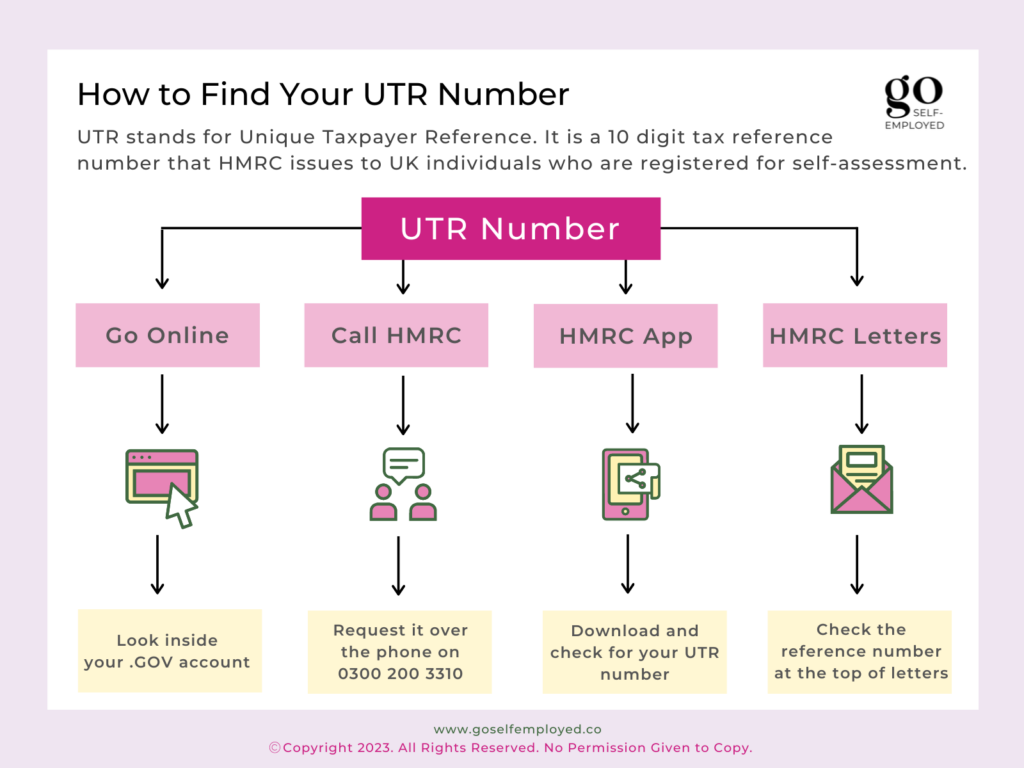 Using the HMRC App
You can find your UTR number on the HMRC which is a handy place to find information like your unique tax payers reference, pay your tax bill and track forms you've submitted. Find out more about the HMRC app and how to download it on the .GOV website.
Find Your UTR on HMRC Correspondence
As well as being able to find your UTR number online, you'll find it on any correspondence you have from HMRC. They use your tax reference number as a way to identify you on their systems to access your personal information and will use it as a reference on the letters they send to you.
If you have any correspondence from HMRC then you should be able to find your UTR number on your:
Find Your Unique Taxpayer Reference By Phone
If you are struggling to find your UTR number online, then your best bet is to call HMRC on 0300 200 3310. You can then request your unique taxpayer reference number over the phone. Remember, when you call HMRC you'll need to confirm your identity so you'll need your National Insurance number in addition to your personal details.
Given the confidential nature of your UTR, HMRC will need to send it out to you by post. Therefore, you should be aware that it can take up to 7 days to arrive.
How Can I Check a UTR Number?
You can check your UTR number by calling HMRC or by going online. UTR numbers are highly confidential since they are used by HMRC as part of the identification process when accessing information about an individuals taxes. If you are a CIS contractor and need to check a UTR number, then you'll need to verify subcontractors by:
Is My HMRC UTR Number Still Active?
As long as you have not de-registered as self-employed it will still be active and HMRC will be expecting tax returns from you.
Can I Reactivate an Old Unique Taxpayers Reference?
No, a UTR cannot be reactivated. So if you were previously self-employed and deregistered for self-assessment, you'll need to register as a sole trader again and wait for a new code to be sent to you.
Where Do I Find My Limited Company UTR Number?
Your limited company UTR is different from your personal one. So if you have been asked for this reference and have a Limited Company you should clarify which one is required before you give it to anyone. You'll find your Limited Company reference on all Corporation Tax letters sent to you by HMRC.
If you cannot find it, call the HMRC Corporation Tax Return helpline on 0300 200 3410.
What Happens if You're Self-Employed and Receive Two UTR Numbers
If you have received two different tax reference numbers then you must contact HMRC. They will expect two tax returns from you and issue automatic penalties if you only file one. You'll be able to appeal but there is no guarantee that HMRC will squash the charge.
Related: