A step-by-step guide to getting a UTR number, how you can apply for one and what it means once you have it.
What is a UTR number?
UTR stands for Unique Taxpayer Reference.
It is a 10 digit number that HMRC issues to UK individuals who are registered for self-assessment.
Anyone who works for themselves needs to register with HMRC because they need to work out their own taxes and complete a tax return.
Why Do You Need a UTR Number?
You need a UTR number when you start working for yourself because it helps HMRC identify exactly who you are.
Your UTR number is unique to you and highly confidential. So once have one you shouldn't share it with anyone unless absolutely necessary.
If you work in the construction industry you going to need to apply for a UTR number as well as registering for the Construction Industry Scheme. Once registered for both you will get your CIS card.
Step-By-Step Guide to Registering as a CIS Subcontractor Online.
How to Get a UTR Number
The quickest way to get a UTR number is to go online, but you can also apply by phone.
Before you start the registering as self-employed online, make sure you have your National Insurance number handy.
You'll then need to complete the following steps:
Visit the HMRC website and choose the option to "Register Online";
Set up your HMRC online account so you can manage your taxes online;
Enrol for self-assessment online;
Wait for your UTR number to be posted to you (can take up to 10 days)
Wait for your activation code so you can complete setup of your HMRC online account.
1. Visit the HMRC Website
Head over to the HMRC website to get started with their registration service.
2. Set Up Your HMRC Online Account
Next, set up am HMRC online account called "Government Gateway Account".
A Government Gateway Account is your online account where you can check on your taxes, get messages from HMRC and file your self-assessment tax returns.
To get set up you'll need to start by entering a valid email address, which you'll need to confirm to complete your UTR application so make sure you have access to it.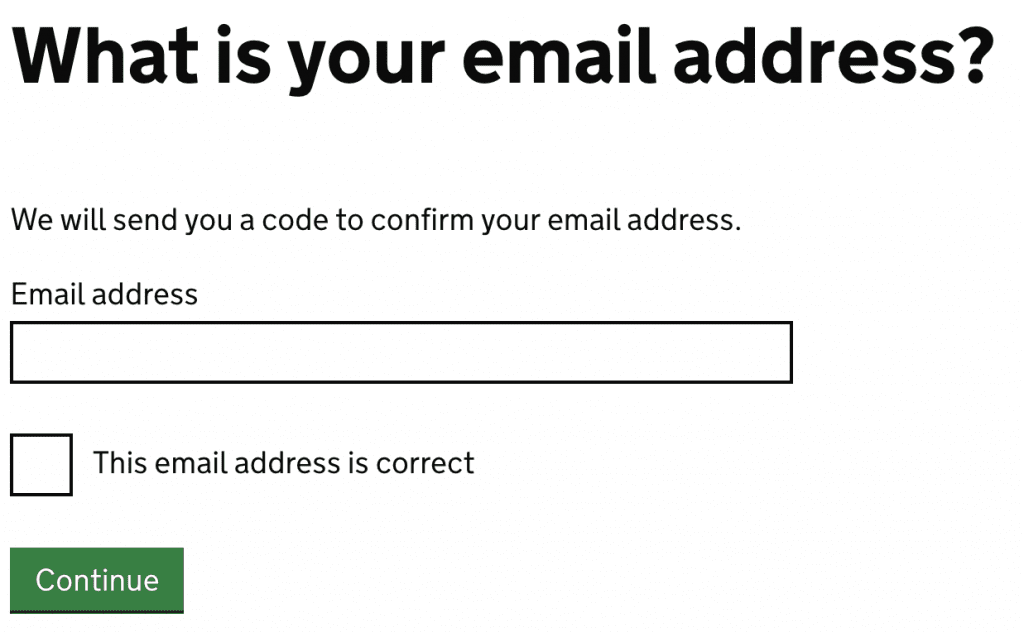 You'll be emailed a code. Enter the code to continue with the application.
Once entered correctly, you will receive the message "Email address confirmed".

Continue with your application by entering your full name and press continue.


Once you have set up your HMRC online account, you'll be issued with a User ID (12 digit number) and be asked to set up a password.
Keep a note of your user ID and password, they are essential for getting your UTR and managing your taxes.
3. Enrol for Self-Assessment Online
Once you have set up your government gateway account, you'll need to let HMRC know more details about you so they can send you a UTR number.
You'll need to provide information about yourself including:
Personal details
Address
Date of birth
National insurance number
The date you went or are planning to go self-employed
Need my help? Follow this video to register for self-assessment.
How to Get a UTR Number by Phone
You can phone HMRC on 0300 200 3310 to apply for your UTR number.
Again, you'll need to have your national insurance number ready and they will ask for various information to get you set up.
How Quickly Will Your Get Your UTR Number?
It can take anything up to one month to get a UTR number from HMRC. It all depends on how busy they are.
If you are concerned about your application, then call HMRC on 0300 200 3310 to check the status. They'll also be able to give you an estimate of how long it will take to be issued.
What Happens Once You Are Registered for HMRC Self-Assessment
Once registered you'll need to complete a self-assessment tax return form once a year and working out your taxes.
You'll also be responsible for keeping records of your income and expenses.
Why? Because unlike when you work for someone and they work out all you tax before they pay you when you are self-employed all the money you are paid is untaxed. That means you need to work out how much tax you owe.
How to File Your Tax Return Online
FAQs
What Does UTR stand for?
UTR stands for Unique Taxpayers Reference.
Do I Need a UTR Number if I am Employed?
No, you do not need a UTR number if you are employed and your employer handles all your taxes on your behalf.
If you receive other forms of untaxed income like rent or from a side-business then you may need a UTR number. You'll need to register for self-assessment and declare your income on a tax return.
My UTR Number Hasn't Arrived, how Do I Contact HMRC?
You can contact HMRC on 0300 200 3310 to discuss your UTR number application.
You'll need your national insurance number as part of identifying yourself before they can discuss the application.
How Many Digits is a UTR Number?
A UTR number is 10 digits long and unique to you, like your passport number.
How Do I Cancel My UTR Number?
To cancel a UTR number you'll need to de-register for self-assessment, complete tax returns covering the period until you stopped working for yourself and pay any outstanding tax.
Can I Get an Emergency UTR Number?
No, there is no such things as an emergency UTR number. You'll have to go through the application process and wait for your UTR number to be posted out to you.
Do I need to Include my UTR Number on my Invoice?
No. Due to its confidential nature you shouldn't include it on invoices for security reasons.
You can include your national insurance number if a contractor or client asks you for it.
Is a Personal UTR Number and Company UTR number the same?
No, they are not the same.
A company is considered an entity in its own right and will have its own company UTR number for corporation tax purposes.
Is a UTR number and CIS number the same?
No, your UTR number and CIS number are different.
If you need a CIS number you'll need to complete two application forms. But you will need to get a UTR number BEFORE you register for your CIS number.
Do Students Need a UTR Number?
Under certain circumstances, students do need a UTR number.
Everyone who works is subject to the tax rules regardless of age. Although there is an amount you can earn before paying any tax and it is your responsibility to decide whether you are self-employed or not.
Updated 23 June 2020
New Here? Learn how to set up the financial side of your business with these easy to understand guides and resources:
Sole Trader or Limited Company?

– Download my free calculator to check which business structure would help you to pay less tax;

Tax Records and Bookkeeping – Understand what tax records you'll need to keep and how to set up your own bookkeeping system;
Self Employment Taxes Explained – Learn what taxes you'll pay, how much and when;
VAT Guides – From registration to de-registration, VAT schemes and thresholds, these guides will take you through the basics every UK small business owner needs to know;
Invoice Template – Free template and step-by-step guide so you can get paid by your clients.