Capital allowances affect how you claim tax relief on assets you buy in your business and how you fill out your tax return for these costs.
I've updated this post on 23 January 2021
What is an Asset?
An asset is something you buy to run your business, rather than an overhead.  Usually, they will be more expensive than the other things you buy on a day-to-day basis, and you'll use them for several years such as:
Computers;
Tools;
Furniture;
Equipment.
What are Capital Allowances?
When you buy a piece of equipment, like a laptop, you pay for it upfront and then use it for a few years. So say you paid £1,500 for a laptop and use it for 3 years if you pay £1,500 the laptop and plan to use the computer for 3 years, then ideally you would claim £500 as an expense against your taxes for 3 years.
What this meant was businesses reduced the number of years they said they were going to use equipment to accelerate their claim against their taxes.
To equalise things, HMRC has rules for tax (not accounting) purposes, these are Capital Allowances. These rules set out percentage tax relief a business can claim each year, depending on what they have bought.
Annual Investment Allowance 2019/2020
The Annual Investment Allowance (AIA) is a valuable tax break introduced a number of years ago by HMRC to encourage business growth.
The Annual Investment Allowance for 2019/2020 is £1m.
That means businesses can claim 100% tax relief on fixed assets that meets the AIA criteria in the year they bought it.
Learn More: Annual Investment Allowance
HMRC Capital Allowances Rates 2019/2020
There are three main categories of Capital Allowances:
1. Main Rate Pool – 18%
This pool includes things like plant & machinery, equipment and furniture.
2. Special Rate Pool – 8%
This is a unique category and refers to purchases which are:
parts of a building considered integral – known as 'integral features';
items with a long life of over 25 years;
thermal insulation of buildings;
cars with CO2 emissions of more than 130g/km.
3. Single Asset Pool – 18% or 8%
A business can create a single asset pool where an asset that has a really short life but you cannot include in this pool any cars, special rate items (number 2 above) or anything that you use for non-business reasons.
All the above exclude Cars.
Capital Allowances on Cars
Business can claim for Capital Allowances on cars, but the amount they can claim is based on Co2 emissions and whether it is new or second hand.
Capital Allowance Rates of Cars from April 2015 are:
| Description of car | Capital Allowances Claim | % Claim |
| --- | --- | --- |
| Second hand, CO2 emissions of 110g/km or less or electric | Main rate | 18% writing down allowance |
| New and unused, CO2 emissions of 50g/km or less or electric | First year allowance | 100% first year allowance |
| New and unused, CO2 emissions between 50g/km and 110g/km | Main rate | 18% writing down allowance |
| New or second hand, CO2 emissions above 110g/km | Special rate | 8% writing down allowance |
How to Claim Capital Allowances on Your Tax Return
You'll need to claim your capital allowances in the self-employment section of your tax return.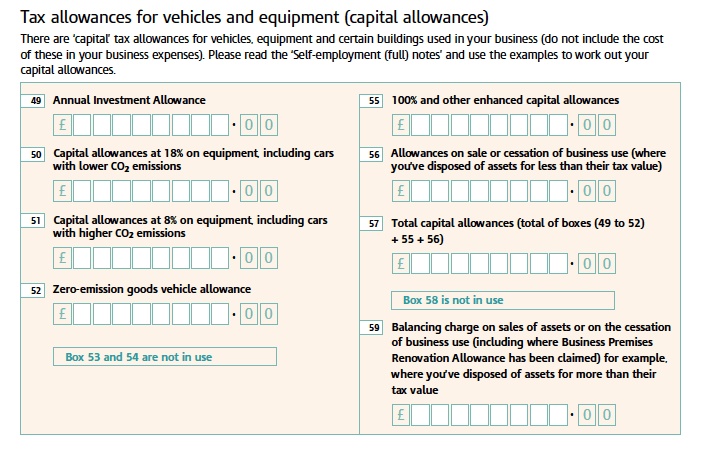 You can choose to show depreciation, but this will be flagged as a disallowable expense and added back when calculating your business profits.